Bolognese sauce is what makes this dish irresistible. The Parmigiano Reggiano is what makes the dish luxurious! Pasta bolognese is one of those healthy comfort foods that gives pleasure to the stomach and the soul.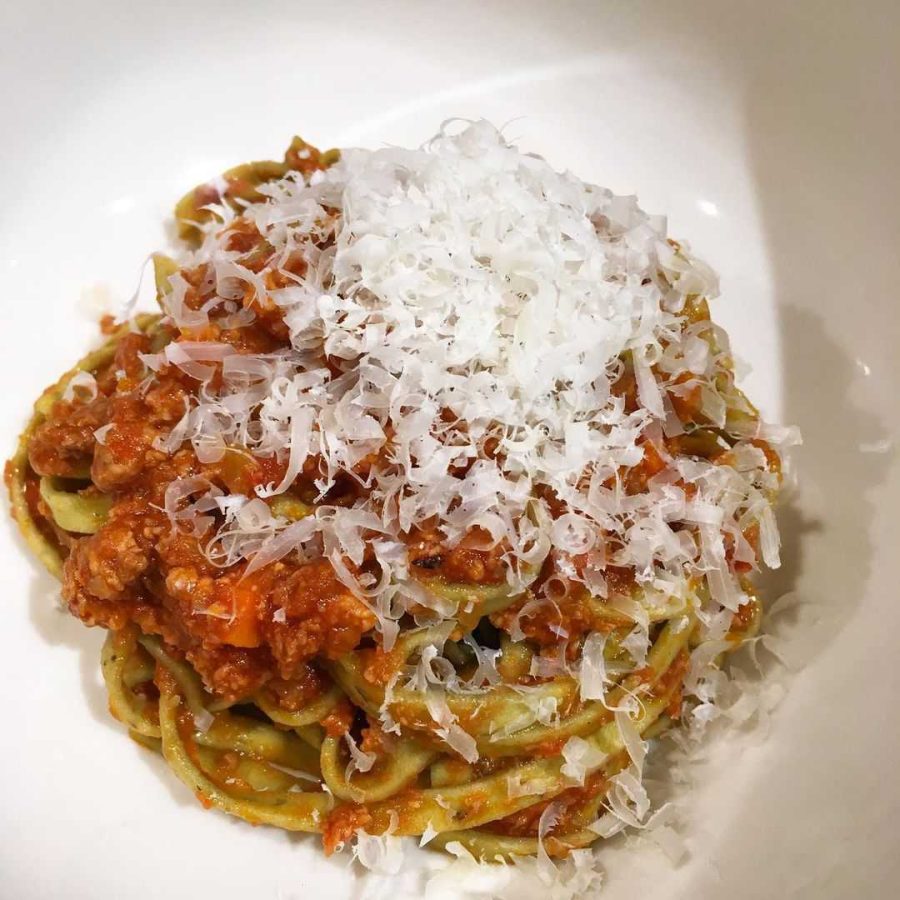 Can You Use Linguine Instead Of Spaghetti For Bolognese?
Yes, of course you can use linguine instead of spaghetti for bolognese. The first bolognese dish was actually served with macaroni pasta! So, feel free to add your fusion to a delicious pasta bolognese sauce recipe.
Bolognese Origin
The origin of Bolognese was back in the 1700s by Alberto Alvisi. Since then, bolognese has undergone a lot of fusion and there is no argument that the original recipe is always better. Initially, it was served with pasta and later it found its match in linguine or spaghetti.
Linguine Bolognese Recipe
Linguine bolognese recipe is special because it adds a homemade touch to the dish. You can make the dish with store-bought pasta or spaghetti, but your handmade spinach linguine will have linguine bolognese nutrition and better taste because it is made fresh and with love.
Home made bolognese sauce also keeps well in the freezer. Together with a little left over pasta in the pantry and you have a tasty last-minute meal or late night snack (which is what happened to me the other day!).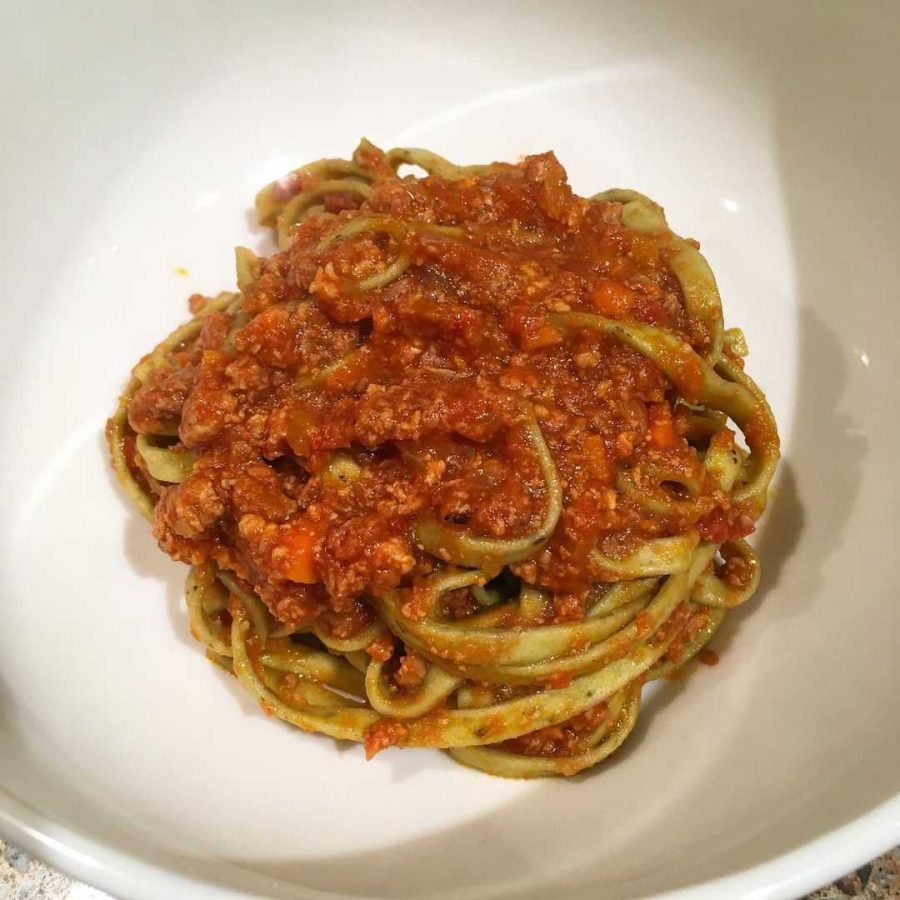 What If You Are Vegetarian and Want to Try This Dish?
Yes, vegetarians can enjoy bolognese sauce too! You can substitute the meat with mushrooms and jackfruit meat. Tomato-based sauces taste good with jackfruit and the texture and consistency is also similar to real meat.
Spinach Linguine With Bolognese Sauce
Pasta Bolognese is a delicious and forgiving dish, and offers lots of flexibility. You can use any meat of your choice, but the pasta bolognese original recipe combines two meats.
Prep Time: 10 minutes
Cooking Time: 3 hours
Serves: 8
Bolognese Sauce Ingredients
4 tbsp butter
3 tbsp olive oil
1 onion, chopped
1 carrot, peeled, chopped
1 cup tomato puree
1 ½ lb beef ribs, cut into small cubes
1 lb lamb, cut into small cubes
3 tbsp tomato paste
2 tbsp gelatin powder
2 cups beef broth
1 tsp chili flakes
4 bay leaves
½ cup cranberry juice
Salt and pepper to taste
½ cup Parmigiano Reggiano, grated
Spinach Linguine Ingredients
4 cups all-purpose flour
8 egg yolks
1 cup spinach puree
Salt to taste
Water as needed
Bolognese Sauce Directions
In a dutch oven, add the olive oil and melt the butter.
Add the onion and cook for 2 minutes.
Add the minced meat and cook for 10 minutes.
Add the bay leaves, tomato puree, and tomato paste and cook for 10 minutes.
Add the salt, pepper, chili flakes, beef broth, and cranberry juice.
Add the carrot and gelatin powder.
Cook for 2 hours on low flame. Serve on top of the boiled spinach linguine.
Add the grated Parmigiano Reggiano on top.
Spinach Linguine Directions
To make the spinach linguine, sift the flour with salt in a bowl.
Make a hole in the middle and add the egg yolks. Gently mix them.
Add the spinach puree and make dough.
Roll it as thinly as possible. Cut into strands.
Boil them in salted boiling water for 6 minutes. Drain them and add them to serving bowls to finish with Bolognese sauce.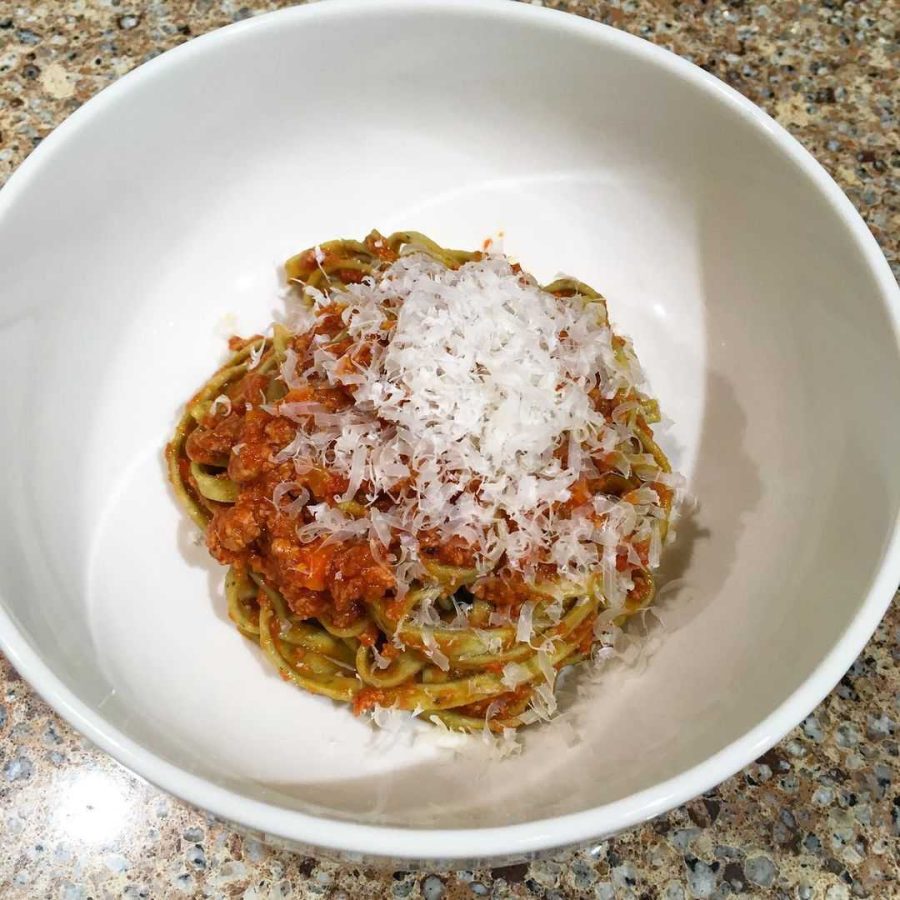 Let's Make Linguine Bolognese Sauce At Home
Bolognese recipes are always satisfying and fun to make because they don't require too much effort in the kitchen. It may take a long time to make, but your active time in the kitchen is not too long. And the results are brilliant!