Some would say they know the best Top Ramen recipes. It's impossible because there are many ways to upgrade instant ramen and make it delicious! But if you are looking for Top Ramen dinner ideas or cup noodle hacks then read on.
Instant Ramen Dinner Series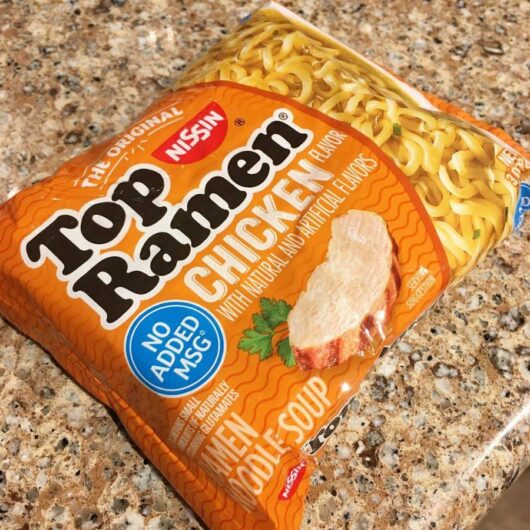 I am from Japan so I have had some really amazing ramen. And I've eaten many kinds of Japanese instant ramen noodles too. I had also heard about the Top Ramen instant noodle brand but somehow I had never eaten it!
Out of all the more traditional chicken-flavored ramen noodles, these were the best.
Even the New York Times highlighted Top Ramen, quoting Tomonori Takahashi, founder of Jinya Ramen Bar restaurants. "Out of all the more traditional chicken-flavored ramen noodles, these were the best."
So, after seeing a bulk deal I could get through the delivery service Boxed, I decided to try it out. But I decided to try some instant noodle hacks. And I decided to do a whole, five day series based on the classic Top Ramen chicken flavor base.
Top Ramen History
First, some background… For college students everywhere instant noodles are the go-to solution for filling empty stomachs on a budget. And the most famous instant noodle brand was and is Top Ramen.
This inexpensive instant food was invented in 1958 by Momofuku Ando, the Taiwanese-born founder of Japanese food giant Nissin. The company created the Top Ramen brand in 1970, looking to take the success they had in Japan to the USA.
The very first flavor offered was chicken ramen, but today there are many flavors of Top Ramen available. They were also the inventors of the Cup Noodles product and brand. After all these years, Top Ramen is still the number one brand of instant noodle.
I didn't know that Top Ramen was the first instant ramen noodle ever in the US market, even though it says it right on the package!
How To Make Top Ramen Better?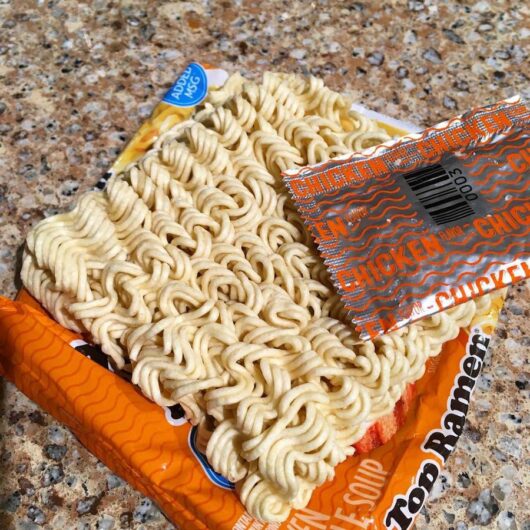 If you are wondering what to add to instant ramen, the answer is: almost anything! There are many common Top Ramen add ins but trying new things can lead to amazing ramen flavors. Some of the more unusual ingredients I have tried out include pesto and natto (Japanese fermented soybean).
Challenge yourself and try experimenting with whatever you find in your refrigerator. Mix and mash up your own ingredients, and invent your own favorite Top Ramen flavor!
Instant Ramen Upgrade
I ended up loving this experiment. The results looked (and tasted) like gourmet ramen but these are all pretty easy ramen recipes. And even though this is one of the most famous cheap instant noodle products, these were all healthy Top Ramen recipes.
Some of the easiest instant ramen hacks are vegetables, whether fresh or prepared (sauteed, etc) in certain ways. In the different dishes below I used mushrooms, orange bell pepper, roasted brussel sprouts, kale and spinach. Most veggies are inexpensive but can add a lot to your noodle hack.
Of course, there are also must-haves like scallions and seaweed.  As you will see, I love wakame seaweed…sometimes I can't stop eating it. So addictive!! It's also very important to make instant ramen a little bit healthier, especially if you keep eating it for a whole week like I did!
Seriously Delicious Ramen
Okay, here we go. These are the instant ramen variations I created in my first five day Top Ramen dinner series.
Pan Fried Salmon with Kale Pesto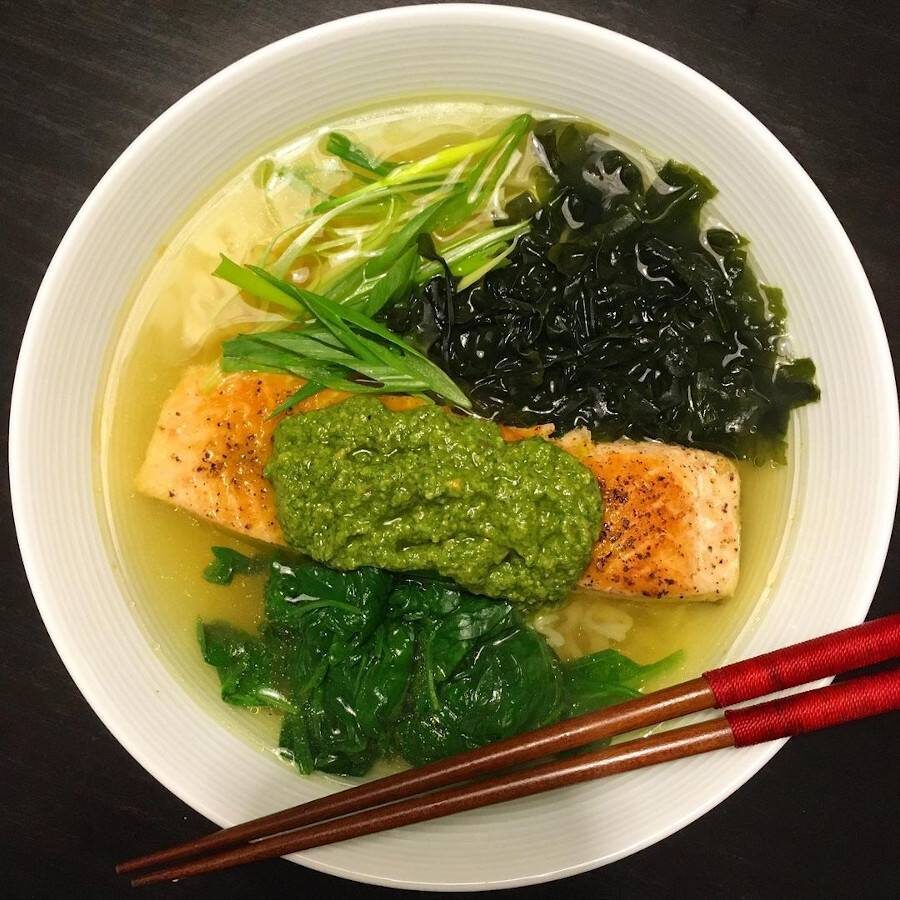 Pan Fried Salmon with Kale Pesto, Spinach, Wakame Seaweed and Scallions.
Sautéed Mushrooms & Spinach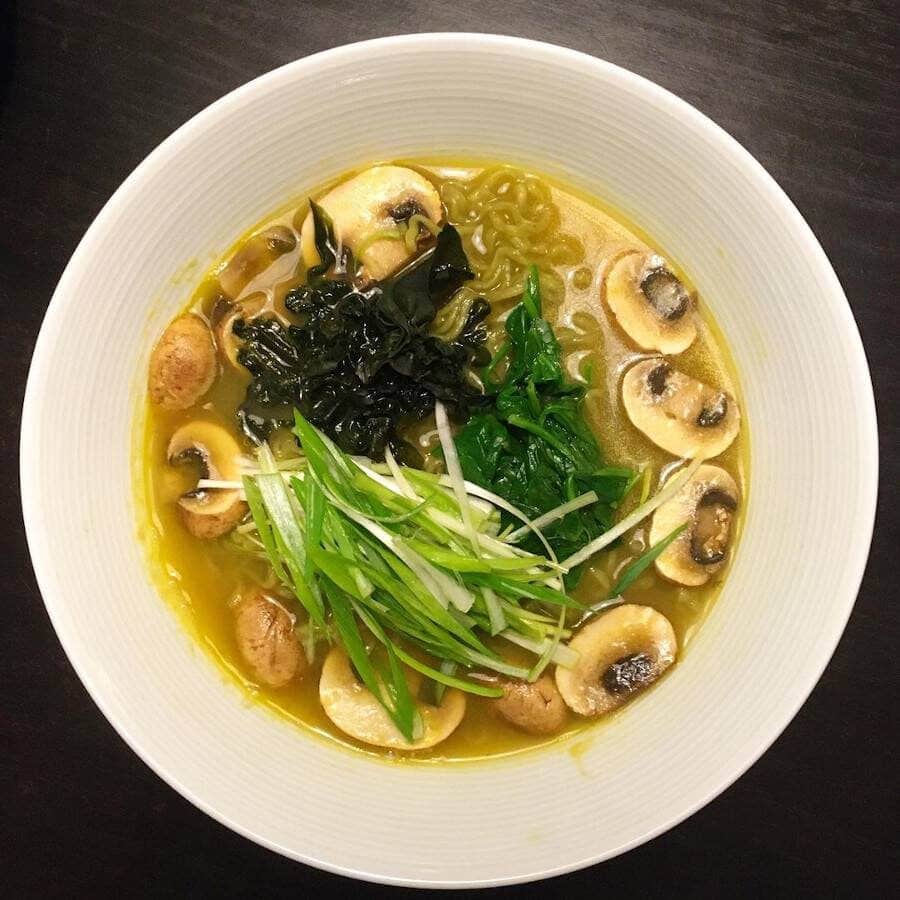 Sautéed Mushrooms and Spinach, Wakame Seaweed & Scallions.
Roasted Brussels Sprouts with Poached Eggs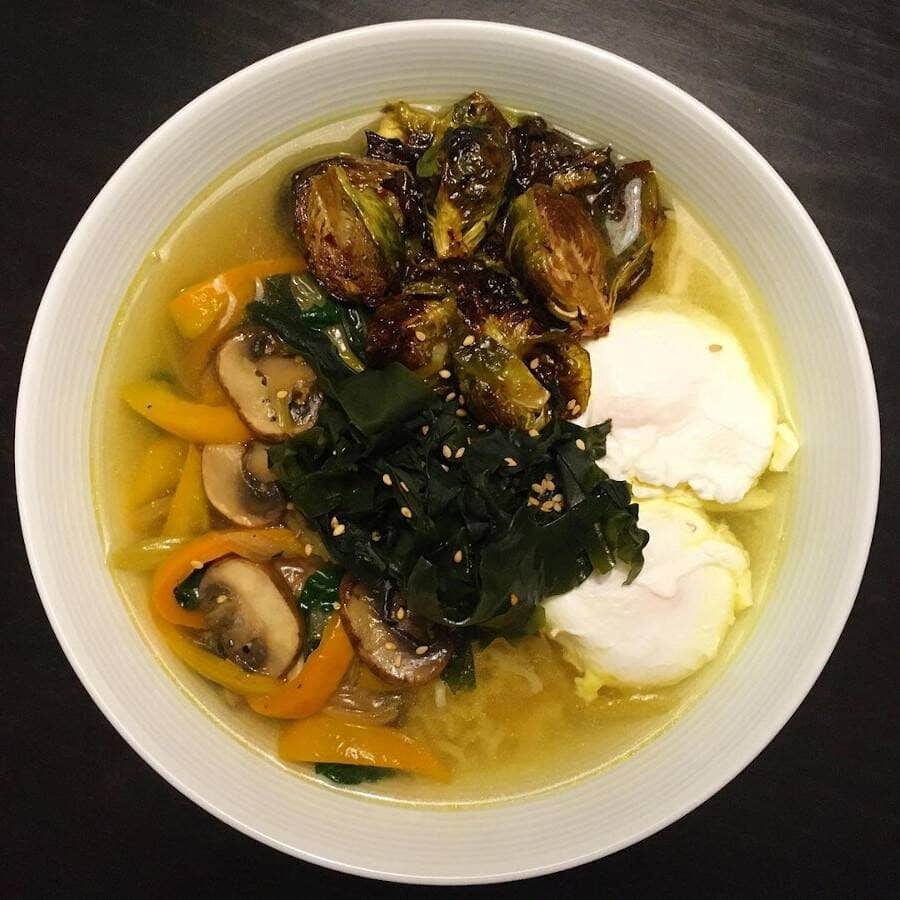 Roasted Brussels Sprouts with Balsamic & Maple Syrup, Stir Fried Mushrooms, Orange Bell Pepper, Wakame Seaweed and Poached Eggs.
Stir Fried Mushrooms & Kale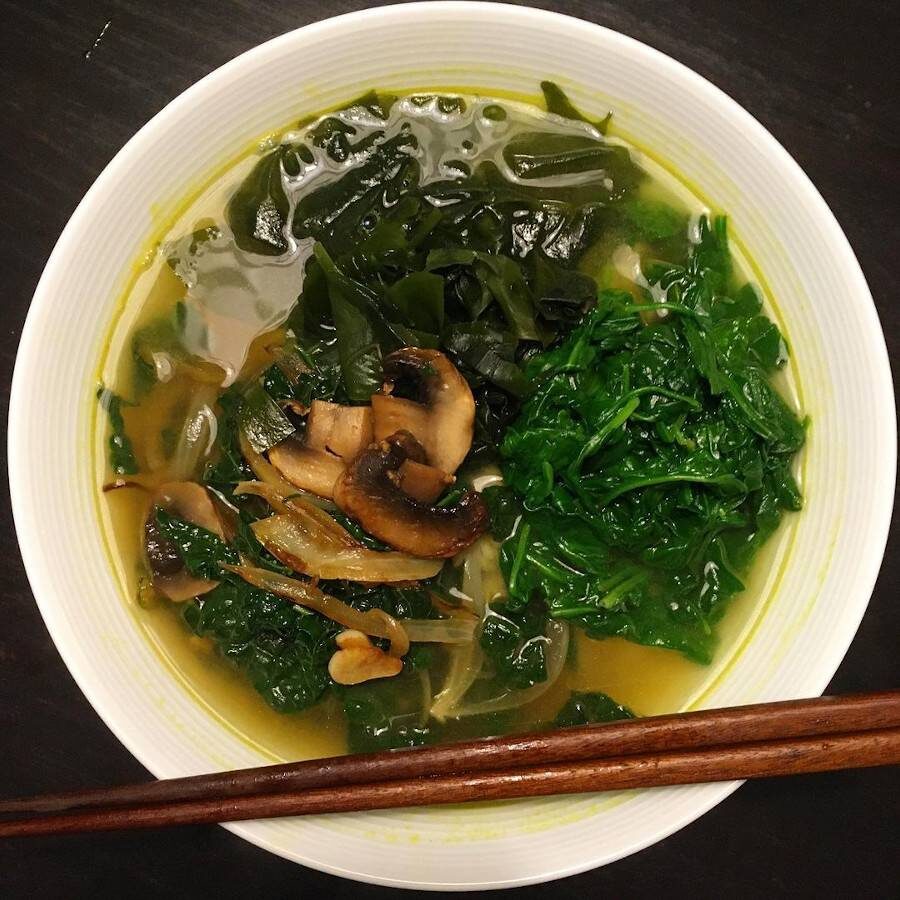 Stir fried Mushrooms & Kale, Spinach and Wakame Seaweed.
Pan Fried Salmon with Kale & Orange Bell Pepper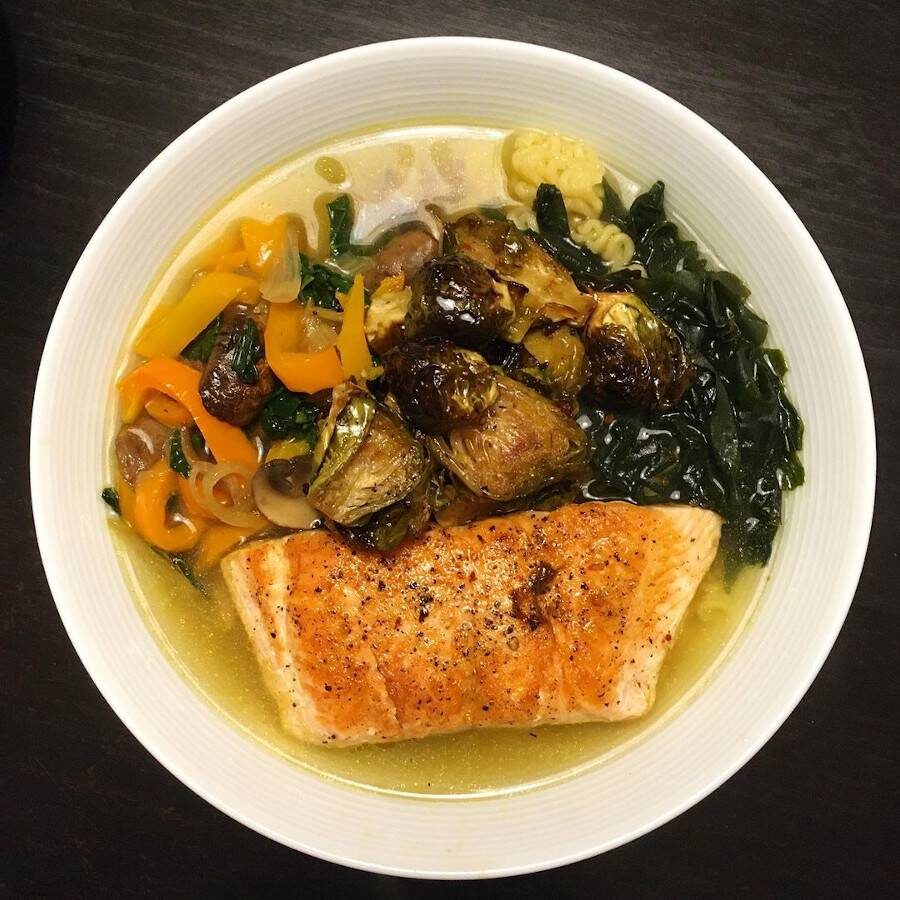 Pan Fried Salmon, Sautéed Mushrooms, Kale & Orange Bell Pepper, Roasted Brussels Sprouts with Balsamic & Maple Syrup and Wakame Seaweed.
After 5 days of ramen in my Top Ramen series you might think I was sick of instant noodles but my tasty and healthy instant ramen variations made it really enjoyable.
I asked my daughter if she ever had Top Ramen and she said "Of course!" I guess she had it while she was in college. I'm glad I discovered (or rediscovered) the joys of instant ramen and look forward to future experiments!