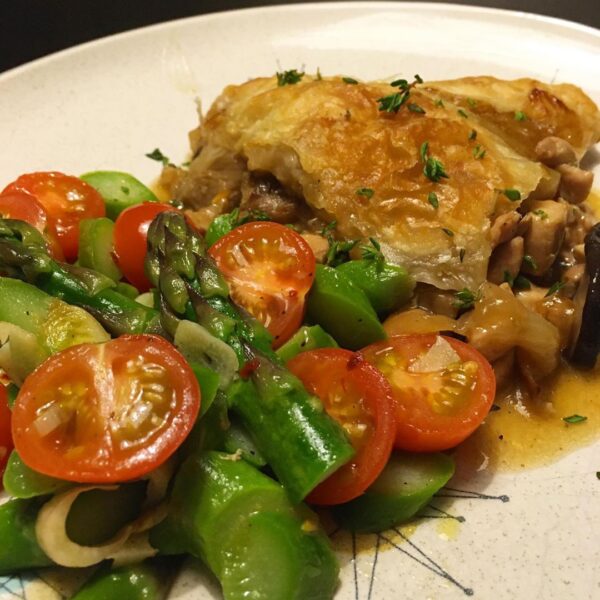 Chicken Pot Pie Recipe With Puff Pastry
This was a wonderful and tasty dinner dish. This tasty recipe for chicken pot pie with golden puff pastry and herb-infused mixed mushrooms was a variation on a Jamie Oliver chicken and mushroom pie recipe. 
This really is a hearty and delicious dish and it uses only 5 ingredients. But this chicken pot pie recipe is quite amazing. It may actually be the best chicken pot pie recipe in the world! 
Read on and you will discover that this is a truly simple and delightful recipe, and the more important question may be: how will you make it?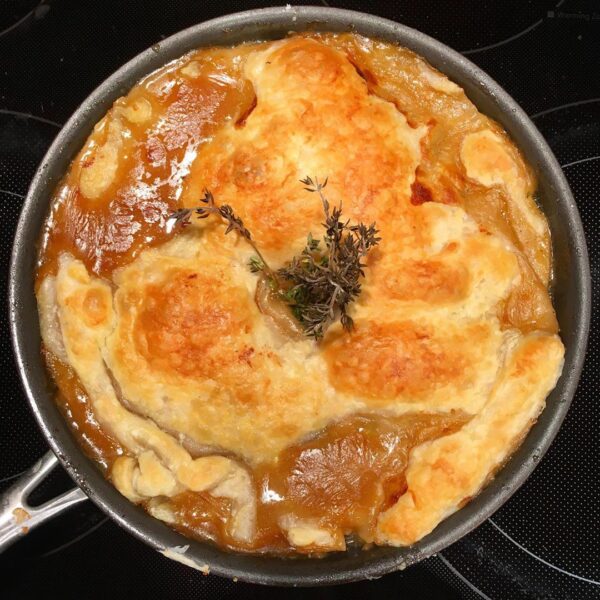 So, how does Jamie Oliver make chicken pie? Read on and you will discover that this is a truly simple and delightful recipe, and the more important question may be: how will you make it?
Easy Chicken Pot Pie Recipe
This really is an easy chicken pot pie with puff pastry recipe. This puff pastry pot pie does not have many ingredients at all. That makes it easy but also very versatile. 
The herbed mushrooms were a great compliment to the tasty chicken and pastry. I made sautéed asparagus and fresh cherry tomatoes on the side. It was truly quick and easy, and made a very good weekday night's dinner!
Puff Pastry Pot Pie Variations
The recipe for chicken pot pie puff pastry Jamie Oliver suggests uses mushrooms but you can easily use the British classic carrots or peas instead. Of course, you could add extra vegetables, herbs and spices, etc. and make this pie more your own.
With just a few adjustments you can even make it individual chicken pot pie with puff pastry. It's also a great use for roast chicken leftovers. The dish calls for chicken thighs but can also be made with other parts of the chicken. Yes, this easily becomes a leftover chicken puff pastry recipe.
Recipe Notes:
Other substitutions can be made to this already simple recipe. You could use leeks instead of onions. And if puff pastry isn't available you can use shortcrust or filo pastry instead. Lastly, if you don't have thyme you can go with rosemary, sage or bay (fresh or dried).
Chicken Pot Pie with Golden Puffs Ingredients
600g free-range chicken thighs, skin off, bone out
1 bunch of fresh thyme (30g)
375g block of all-butter puff pastry (cold)
Directions
Preheat oven to 220°C / 425°F / gas 7
Place a 30cm non-stick oven-safe frying pan on a high heat, with a smaller non-stick pan on a medium heat beside it. Put 1 tablespoon of olive oil into the larger pan.
Peel and chop the onions, adding them to the larger pan as you go.
Loosely chop ⅔ of the thighs, finely chop the rest, and add all to the pan with onions. Cook for 6 minutes, or until golden, stirring occasionally.
Meanwhile, place the mushrooms in the dry pan, chopping any larger ones down to size. Let them get toasty brown for around 4 minutes, then add to the chicken pan and rip most of the thyme leaves in half and add as well.
Remove the pan from the heat. Add a pinch of sea salt and black pepper, then stir in 1 tablespoon of red wine vinegar and 150ml of water.
Move quickly to roll out the pastry to 2cm larger than the pan, then place it over the filling and use a wooden spoon or similar to press it against the edges.
Lightly criss-cross the pastry, then brush it with 1 teaspoon of olive oil. Finally, poke the remaining thyme sprigs into the middle of the pie.
Bake at the bottom of the oven for 15 minutes, or until puffed up and golden brown.
More Photos of Chicken Pot Pie With Puff Pastry Top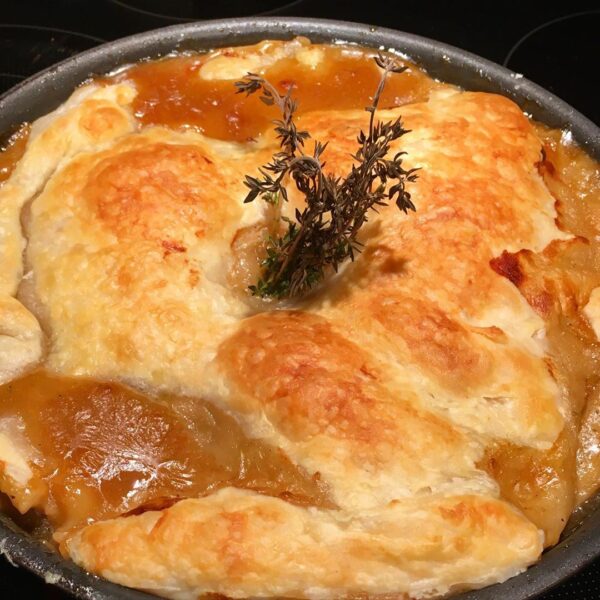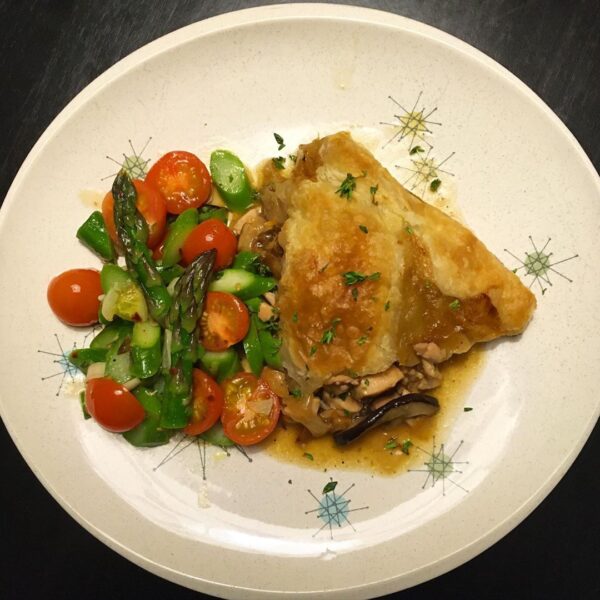 Photos by Haemi Yoon-Hendricks