You know that feeling when suddenly you just need some pasta? That sudden hunger for a hearty, tasty pasta hits you and nothing else will do….
Back to Pasta Basics
One evening recently I was suddenly in the mood for some classic Amatriciana sauce. Having Amatriciana sauce with Bucatini is the classic serving style but I didn't have Bucatini in my pantry so I decided to eat it with Spaghetti. Improvisation is an important part of cooking!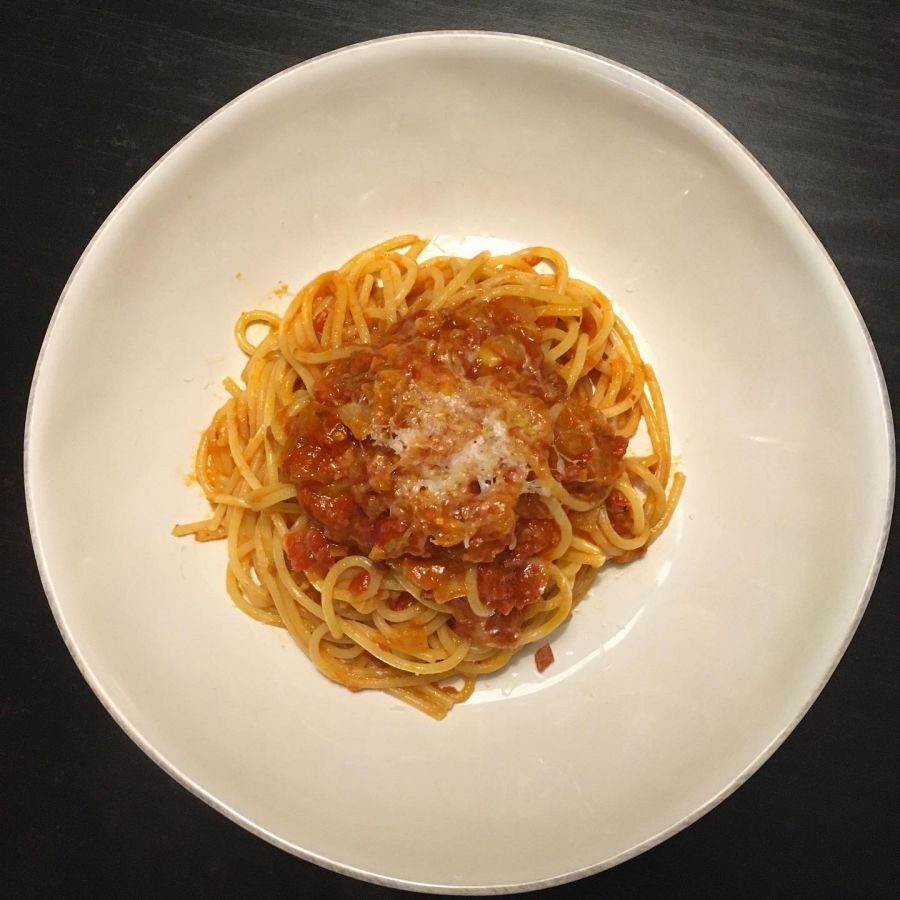 All'Amatriciana With a Twist
I started with a recipe I found in Bon Appetite Magazine. But I wanted to brighten it up a bit. So I decided to add to the recipe and incorporate two more ingredients, sugar and balsamic vinegar.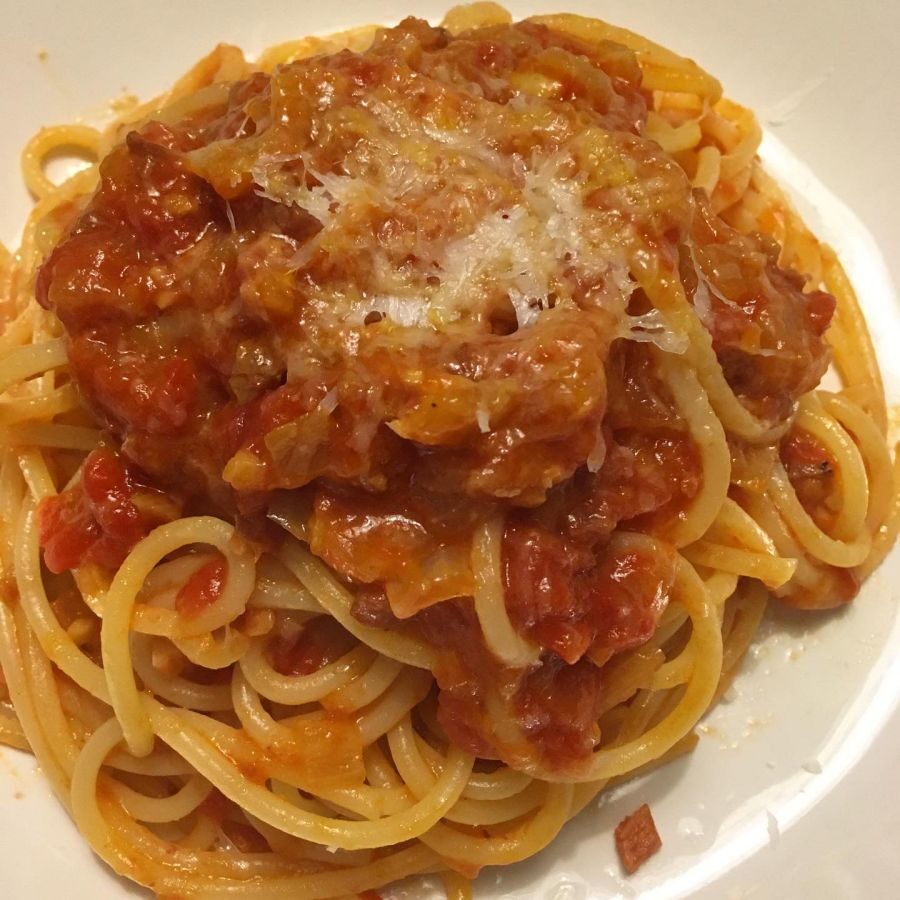 Tasty Pasta Results
This simple addition to the ingredients had a big impact on the recipe results. And I still have some of my All' Amatriciana sauce left so I ordered some Bucatini online. As soon as the Bucatini gets delivered I will try it with my All' Amatriciana Sauce.
All'Amatriciana Recipe
Ingredients
4 Servings
2 Tbsp. extra-virgin olive oil
4 oz. thinly sliced guanciale, pancetta, or chopped unsmoked bacon
1/2 tsp. crushed red pepper flakes
1/2 tsp. freshly ground black pepper
3/4 cup minced onion
2 cloves garlic, minced
1 28-oz. can peeled tomatoes with juices, crushed by hand t
1 Tbsp. Sugar
2 Tbsp. Balsamic Vinegar
Kosher salt
12 oz. dried bucatini or spaghetti
1/4 cup finely grated Pecorino (about 1 oz.)
Directions
Heat oil in a large heavy skillet over medium heat. Add guanciale and sauté until crisp and golden, about 4 minutes.
Add pepper flakes and black pepper; stir for 10 seconds. Add onion and garlic; cook, stirring often, until soft, about 8 minutes.
Add tomatoes and sugar, reduce heat to low, and cook, stirring occasionally, until sauce thickens, 15-20 minutes.
Meanwhile, bring a large pot of water to a boil. Season with salt; add the pasta and cook, stirring occasionally, until 2 minutes before al dente. Drain, reserving 1 cup of pasta cooking water.
To the sauce in the skillet, add Balsamic vinegar before adding drained pasta.
Add drained pasta to sauce in skillet and toss vigorously with tongs to coat. Add 1/2 cup of the reserved pasta water and cook until sauce coats pasta and pasta is al dente, about 2 minutes. (Add a little pasta water if sauce is too dry.)
Stir in cheese and transfer pasta to warmed bowls.
Healthy Salad Side
I also added a healthy side to my meal. This is one of my all-time favorites and makes a great salad accompaniment to a pasta dish. It was arugula with zucchini noodles, shaved parmigiano reggiano cheese and pine nuts. Topped off with a white balsamic vinaigrette dressing makes it great!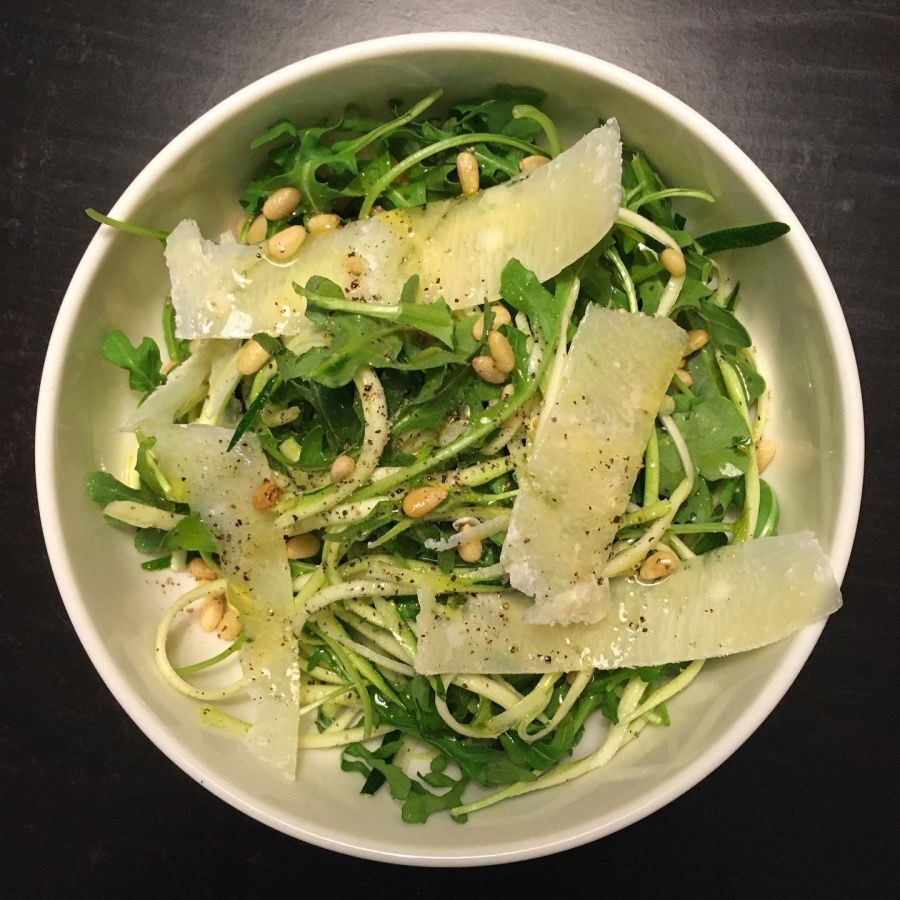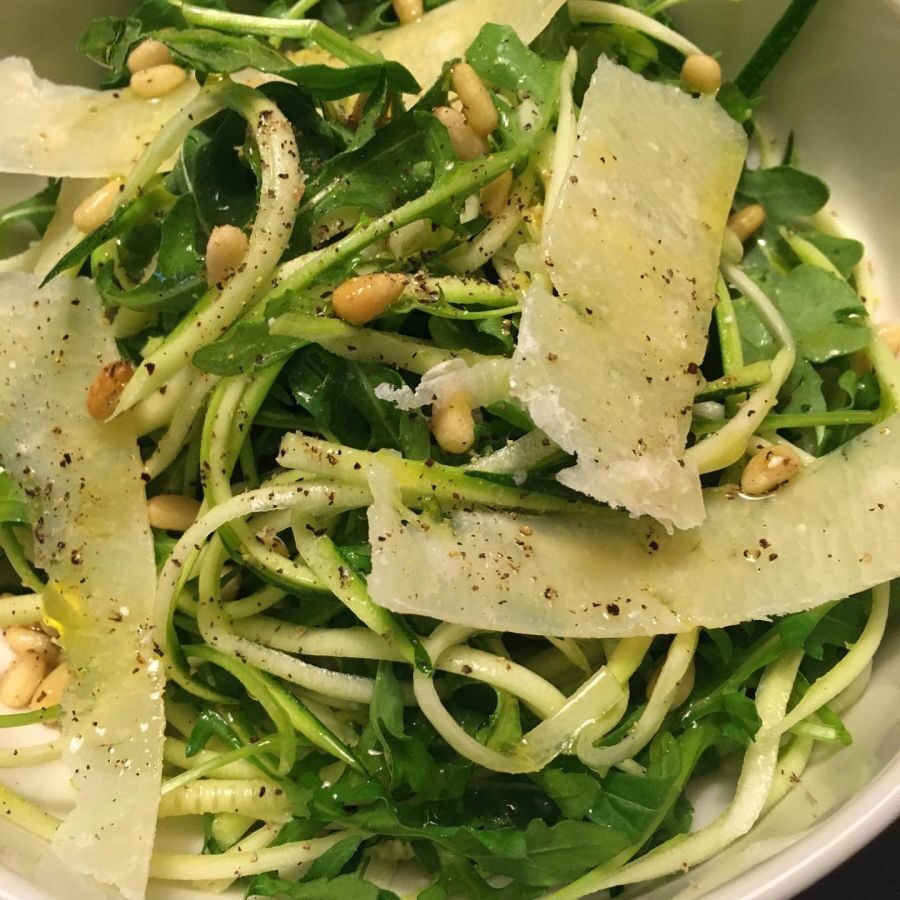 Photos by Haemi Yoon-Hendricks