Sous vide is a French cooking technique that involves vacuum-sealing food in a plastic bag and cooking it in a temperature-controlled water bath. I've been enjoying the amazing flexibility and health benefits of sous vide for years.
But the cooking method has gained immense popularity among chefs and home cooks due to its ability to produce perfectly cooked, juicy, and flavorful dishes every time. This sous vide for beginners guide will give you all the quick start knowledge you need to make this special technique part of your home cooking tradition!
Borderless Comfort may earn a referral fee, at no extra cost to you, when buying through links on this site. Learn more.
Getting Started with Sous Vide
To start cooking sous vide, you'll need some essential equipment. Taken together the required tools you'll need can be considered your sous vide kit. Such kits are sometimes sold as a bundle, but we will discuss the individual parts below (you don't need to spend a lot).
IMPORTANT: All-in-one kits that include the circulator (sometimes called pod) are tempting, but you don't actually save much money by buying things together. More importantly, the quality of the no-brand cooking unit is often low, and unreliable.
So, the most important piece of equipment is an immersion circulator (this sous vide machine is my go-to). Make sure to choose a machine that fits your cooking needs and budget. This tool will heat and circulate the water in the cooking vessel (which itself is usually called a "sous vide container"). This is a good made-for-purpose container but a large pot can be used instead of a sous vide container as well (that's what I usually do). You'll also need to seal the food in water-tight bags before cooking.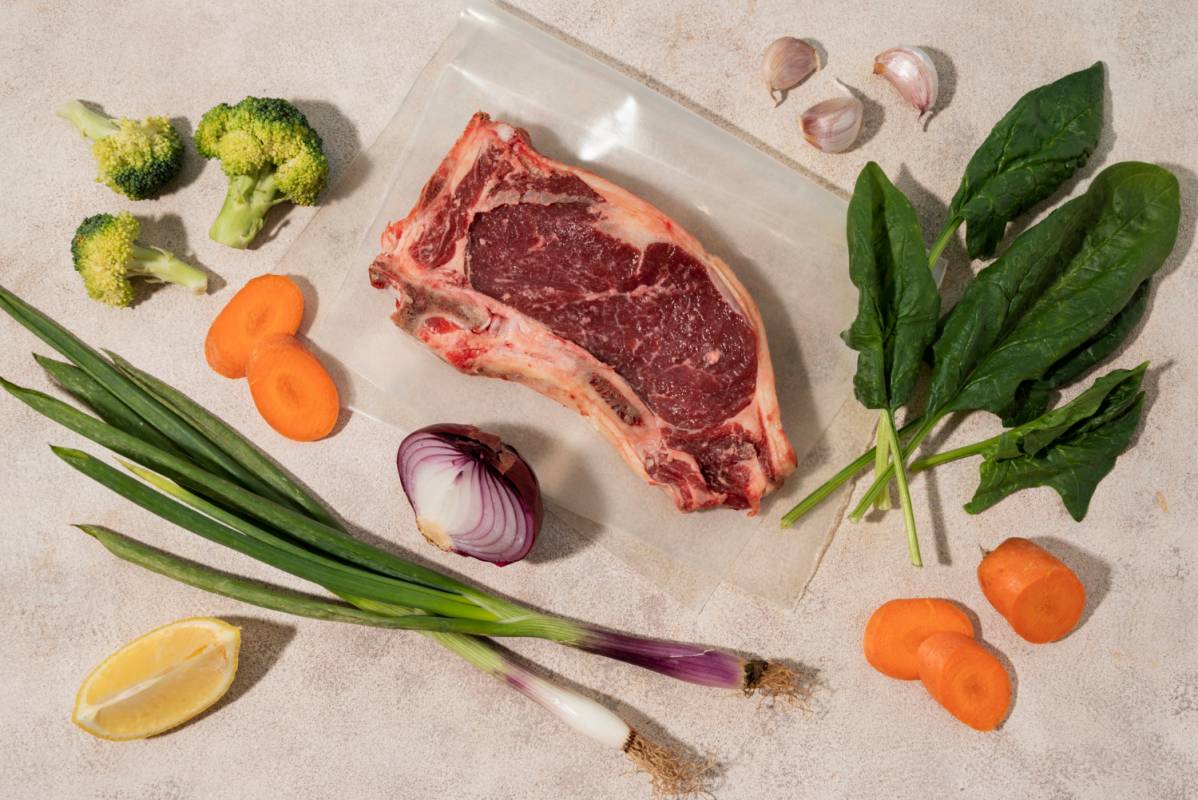 A vacuum sealer machine or a handheld vacuum sealer, and special purpose bags can be used. Or you can just use zip-lock bags (like I do). 🙂 With tools in hand, place your food in a plastic bag and remove as much air as possible to seal the bag.
Once you've vacuum-sealed your food, it's time to prepare your water bath. Fill a large container with water and set your sous vide machine to the desired temperature. The machine must maintain the water temperature throughout the cooking process, ensuring precise cooking every time.
Sous Vide Cooking Techniques
Sous vide cooking requires precise temperature control and timing to achieve perfect results.
Here is a primer on sous vide temperature settings for cooking meats, fish, and vegetables:
Meat: Cook beef, lamb, and pork at 130°F to 140°F for rare to medium-rare, and 140°F to 160°F for medium to well-done.
Fish: Cook fish at 120°F to 140°F for delicate fish, and 140°F to 160°F for firmer fish.
Cook vegetables at 180°F to 190°F for firmer vegetables, and 185°F to 200°F for tender vegetables.
You can also pre-sear or post-sear your food to add a crispy crust to the surface. Adding aromatics and marinades to the bag before cooking can also enhance the flavors of your dish. Always follow safety tips when cooking sous vide to prevent the growth of harmful bacteria.
Time and temperature are important!
Whether cooking meats, fish or vegetables, sous vide temperature settings are a key to success with this method. The precision that sous vide allows when cooking is not just possible but essential.
Temperature and time will vary depending on the type of food you're cooking, so it's important to consult a sous vide cooking guide (like this one) or app to ensure you're cooking your food to the right specifications.
Pre-searing vs. post-searing
Another technique you can apply when cooking with sous vide is to pre-sear or post-sear your food. Searing your food can add a desirable crust and color to the surface. Pre-searing involves searing the food before cooking it in the water bath, while post-searing involves doing so after the sous vide cooking process is complete.
Both techniques have their advantages and disadvantages, and the choice will depend on the type of food you're cooking and the results you want to achieve.
Adding Flavor with Aromatics and Marinades
One of the best things about sous vide cooking is that it allows you to infuse your food with a variety of flavors. Aromatics such as herbs, spices, and garlic can be added directly to the vacuum-sealed bag, infusing the food with their flavors as it cooks. You can also use marinades to add additional flavor.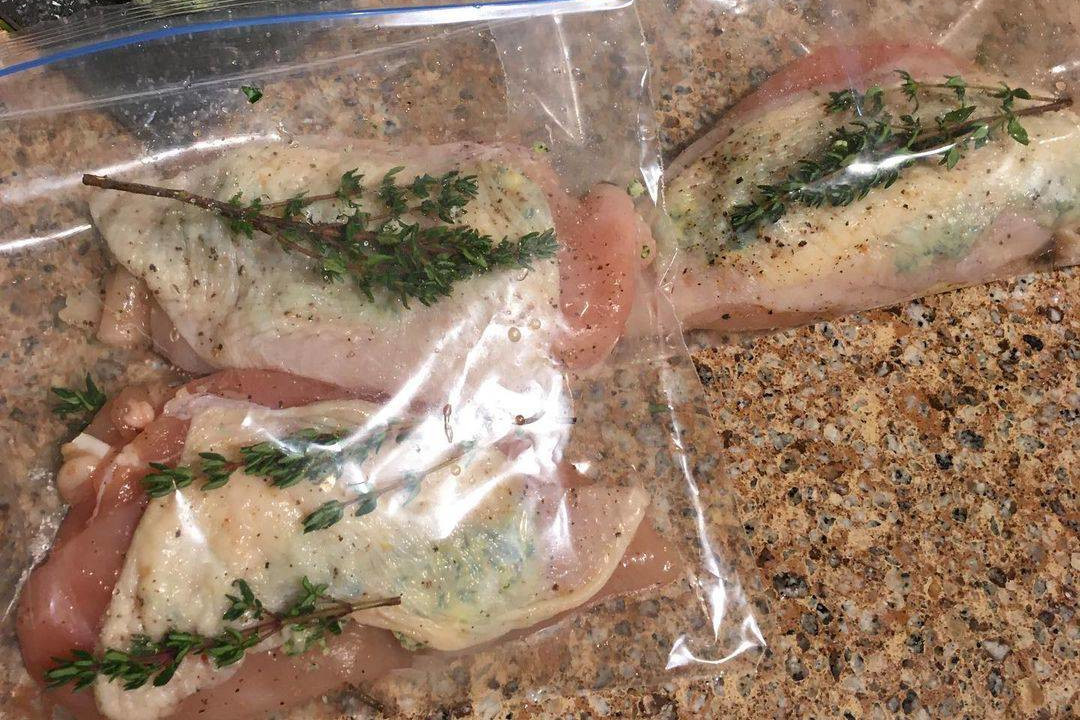 When using a marinade, it's important to ensure that it's completely coating the food and that the vacuum-sealed bag is free of any air pockets. This ensures that the marinade is evenly distributed and that the food is fully flavored. Keep in mind that certain marinades, such as those containing citrus, can actually "cook" the food slightly, so adjust your cooking time accordingly.
Sous Vide Safety Tips
Like any cooking technique, sous vide comes with certain safety considerations. First, always ensure that your sous vide machine is properly calibrated to ensure the correct temperature. And follow the manufacturer's instructions for the machine to ensure safe and proper use. Also, use a food thermometer to verify the temperature of your water bath.
Additionally, be sure to follow proper food handling and storage practices. When vacuum-sealing your food, be sure to remove all air pockets to prevent the growth of bacteria. Finally, be cautious when handling hot water and sous vide bags, and be sure to let the food cool to a safe temperature before handling or serving.
Sous Vide Problems
While sous vide cooking is fairly straightforward, problems can still arise. Here are some common issues and how to troubleshoot them.
Overcooked or under-cooked food
If your food is coming out overcooked or under-cooked, you may need to adjust the temperature and/or cooking time. Refer to a sous vide cooking chart to ensure that you are cooking your food at the correct temperature and for the right duration. Also, check the temperature of your water bath to ensure that it's maintaining the correct temperature.
Water bath temperature fluctuations
Maintaining a consistent water bath temperature is crucial to successful sous vide cooking. If your water bath temperature is not stable, check that your sous vide machine is functioning properly. You can also try insulating your water bath with towels, plastic wrap or a lid to help maintain the temperature. Note that adding cold food to the water bath can cause the temperature to drop temporarily.
One risk of sous vide is simply that a large container of very hot water can cause injuries. Keep it in a safe place, away from small children.
Vacuum sealing problems
Vacuum sealing is a critical step in the sous vide cooking process, but it can also be a source of frustration. If your vacuum-sealed bags are leaking, be sure to check for any air pockets (which can prevent the bag from sealing properly). Also double-check the seal bar and make sure that it is clean and free of any debris. If all else fails, you can try using a different brand of vacuum bags.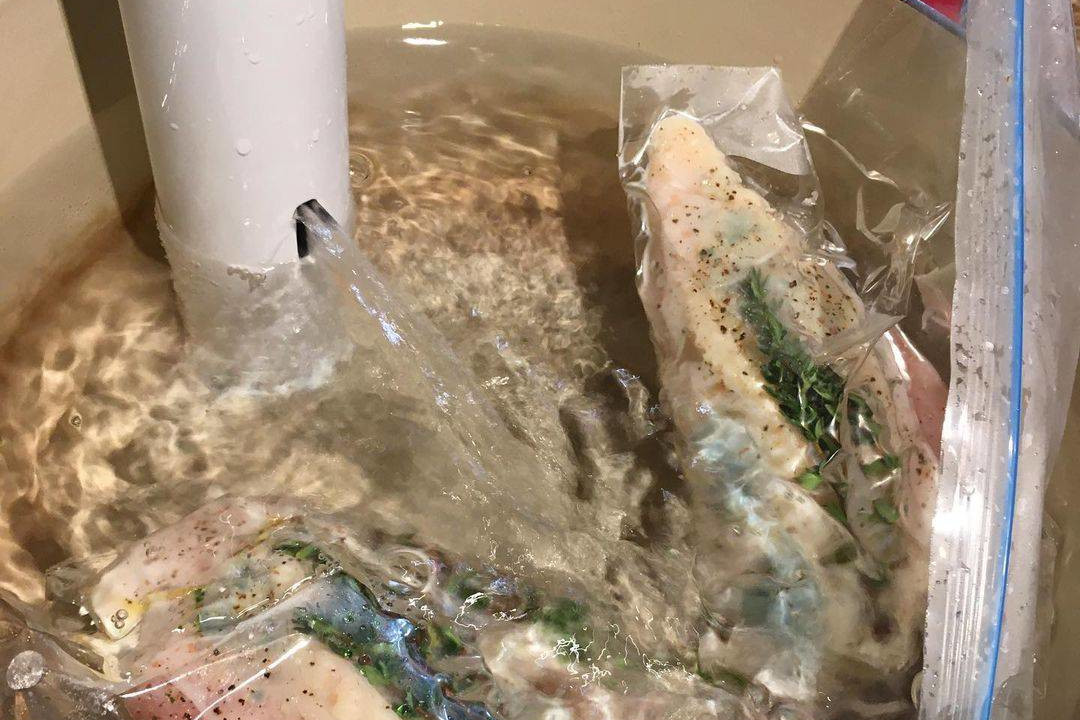 My go-to Sous Vide Machine!
Breville/ChefSteps Joule Sous Vide CS20001
>> 1100-watt heating element means hyper-fast water heating
(less time cooking and more time enjoying results)
>> Companion mobile app: Joule app
(Visual Doneness feature means perfect meals every time)

This sleek and compact sous vide machine
has been a great addition to my kitchen!
Sous Vide Beginner Recipes
Sous vide cooking is an incredibly versatile cooking method and can be used with a wide variety of foods. Here are some easy sous vide recipes for beginners to get you started:
Sous Vide Steak
Sous vide steak is one of the most popular foods to cook sous vide, and is a game changer for anyone who loves a perfectly cooked steak. With sous vide, you can cook your steak to the exact temperature you want and then finish it off with a quick sear for a beautiful crust.
Sous Vide Pork
As with chicken (below) it's important not to under-cook pork, to avoid issues with bacteria. Sous vide is a great way to cook a pork chop, which leaves it moist and tender.
The conventional way of sauteing in a frying pan tends to make pork tough. But using sous vide and the post-searing method above really takes your pork chops to the next level!
Sous Vide Chicken
Chicken is another great food to cook sous vide. It's easy to overcook and dry it out but, with sous vide cooking, you can ensure that your chicken stays moist and tender. You can cook chicken breasts, thighs, or even a whole chicken using the sous vide method.
Sous Vide Salmon
Salmon is a delicate fish that can easily overcook, but the gentle sous vide cooking process ensures that it stays moist and tender. This is also a healthy and flavorful way to cook this popular fish.
You can also infuse the salmon with your favorite herbs and spices. And you can then finish the salmon with a quick sear in a hot skillet or under the broiler.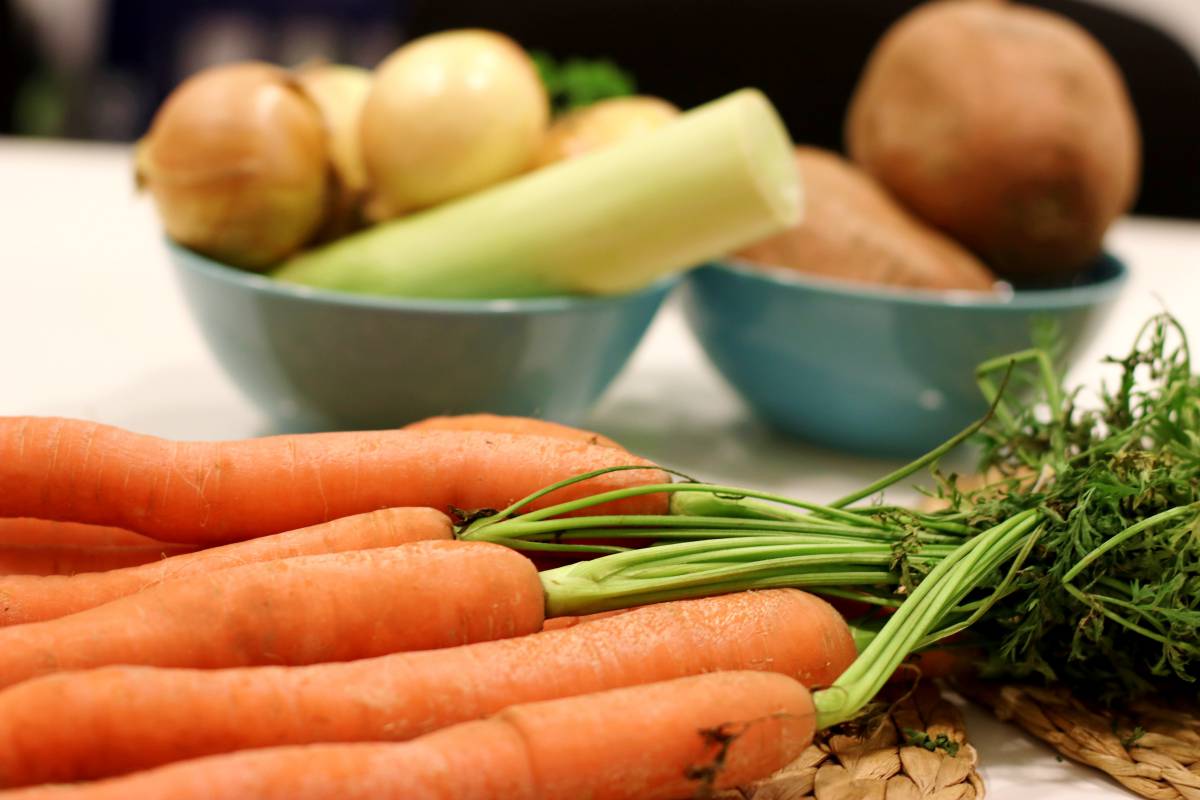 Sous Vide Vegetables
Sous vide cooking can also be used for vegetables. It's a great way to get perfectly cooked veggies with minimal effort; preserving their texture, flavor and nutritional value. You can cook carrots, asparagus, broccoli, and many other vegetables using the sous vide method.
Sous Vide Eggs
Sous vide eggs are a game-changer for breakfast, providing perfectly cooked and consistent eggs every time. It's also a great way to cook eggs for a crowd. You can cook dozens of eggs at once, and they will all come out perfectly cooked.
Cooking eggs in the water bath allows you to achieve an almost custard-like consistency. Simply crack the eggs into a vacuum-sealed bag and cook them until they're set.
Sous Vide Desserts
Speaking of custard, sous vide can even be used to make desserts! You can make custards, cheesecakes, and even chocolate lava cakes using the sous vide method. By cooking them at a low temperature, you can ensure that they cook evenly and don't crack or curdle, and have a smooth, silky texture.
Advanced Sous Vide Techniques
Once you've mastered the basics of sous vide cooking, you can explore more advanced techniques.
Cooking Sous Vide with a Combi Oven
A combi oven combines steam and convection cooking, giving the benefits of sous vide cooking with the convenience of a traditional oven. With a combi oven, you can cook a wide variety of foods using a combination of different cooking methods. The consensus among professionals is that using a proper sous vide machine will result in much more precise cooking temperatures. But a combi oven also has it's strengths and primary uses.
Sous Vide for Meal Prep
Sous vide is a great way to prepare meals for the week ahead. You can cook large batches of food and then portion them out into individual servings for easy meal planning.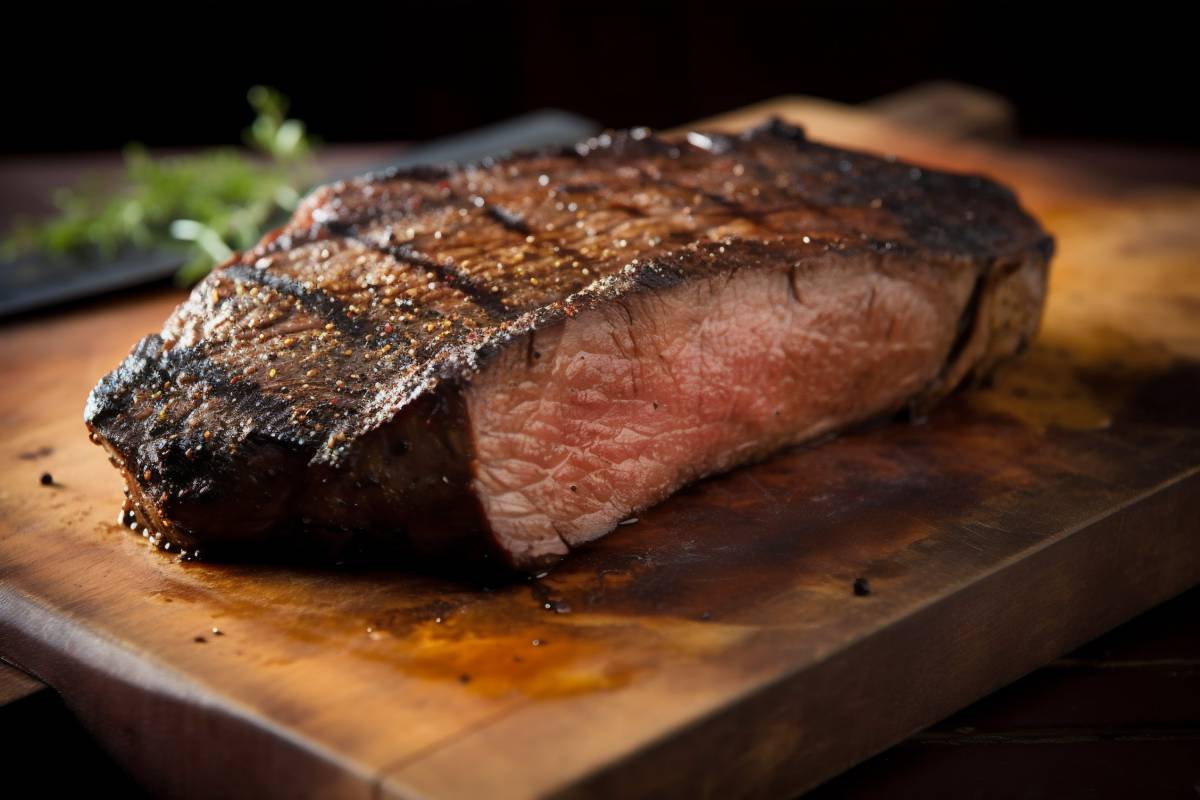 Sous Vide for Large Cuts of Meat
Sous vide is ideal for cooking large cuts of meat like brisket or pork shoulder. With sous vide, you can cook these tough cuts of meat to a perfect tenderness without drying them out. I love cooking brisket this way!!
Is Sous Vide Safe?
Sous vide cooking is a perfectly safe method of cooking food as it allows for precise temperature control. However, there are always steps that can be taken to ensure maximum food safety.
One of the main risks is the potential for harmful bacteria to grow if food is held in the temperature danger zone (5°C–60°C) for long periods of time. Storing food in the fridge for extended periods could increase such risks. Finally, cooking food at low temperatures for short periods could result in under-cooked or raw food, which could also give rise to harmful bacteria and parasites.
It is essential to cook most food at or above 130°F/54.5°C. If cooking below this temperature, it is recommended to sear the meat before putting it in the water bath. Rapidly chilling foods in the first place can help avoid bacterial risks in the first place. Finally, prepared foods should be stored for no more than 5 days.
Is Sous Vide Healthy?
Sous vide cooking has many health benefits.
Sous vide cooking uses less fat and salt
Sous vide retains juices and flavors of food, resulting in more intense flavors
Cooking sous vide retains more nutrients and minerals compared to other methods
Vegetables cooked sous vide have higher amounts of plant compounds
Healthier alternative to frying or grilling, which can create harmful carcinogens (PAHs and HCAs)
When cooking sous vide, the food's juices and flavors remain in the vacuum-sealed pouch, resulting in intense flavors and less need for salt. Additionally, food cooked sous vide holds more nutrients and minerals, such as Vitamin C and carotenoids, compared to traditional cooking methods.
In numerous ways, sous vide cooking is healthier than high-temperature traditional cooking methods. It's tastier too!
Sous vide is a great cooking technique that might seem complicated but is actually very beginner-friendly. It can help you achieve perfectly cooked food every time. With the right equipment, time and temperature guide, and a little practice, you can start enjoying this cooking method too.
Give sous vide a try and add a whole new range of healthy and tasty dishes to your menu.