Bay Area locals have known about it for a long time. Patatas Neighborhood Kitchen is an awesome and delicious deli-style restaurant on Adeline Street in Emeryville, Oakland. And if you haven't tried it you should.
Amazing Frittata Sandwich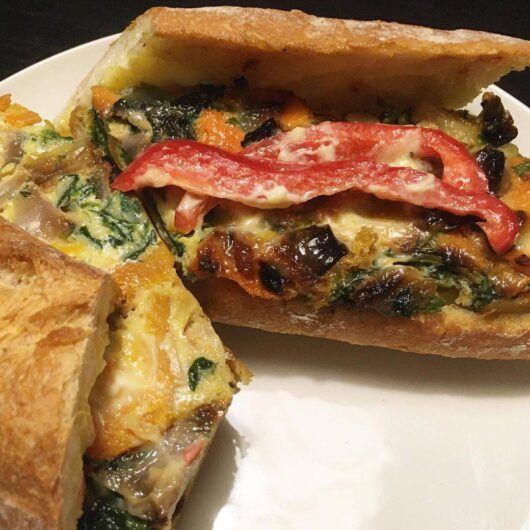 I expected it to be good but OMG it was amazing! My Patatas frittata sandwich included butternut squash and other mixed veggies and was built on top of a baguette from Acme Bread. But the secret ingredient (I think) was the homemade Aioli. That made this sandwich next level!
Like the scene from Ratatouille, it actually brought back memories of Paris. When I visited there a few years back I have this memory of sitting on a bench on the street in Le Marais. I was eating an incredibly good sandwich I got from a boulangerie there, and the Patatas frittata sandwich brought back that memory.
Patatas Kitchen Review
Patatas has been part of the East Bay restaurant scene since 2013 and we are really lucky to have them. They offer easy meals for one or full dinners for families and everything in between, with a focus on chicken.
They really execute well on a small but great range of dishes with fresh, local ingredients. Their simple meals are so delicious and comforting, with great sides and sauces to go with their chicken dishes and salads.
Despite the challenges these days, they offer curbside pick-up or delivery of lunch and dinner. If you are in the Oakland area I highly recommend you give them a try.
Patatas Neighborhood Kitchen
3986 Adeline St, Emeryville, CA 94608
(510) 844-4132
https://www.patataskitchen.com/
Type/Cuisine: Deli-Style American
Price: $$ (out of 5)
Atmosphere: Casual but delicious cuisine
Specialties: Chicken with yummy sides and sauces
Other: Monday to Friday 8:00 AM to 7:00 PM