Moroccan fish tagine with preserved lemons sounds so exotic and seems like it must be hard to make… It is rich and delicious but it's also so easy!
Tasty Tagine With Preserved Lemons
The homemade preserved lemons were the part that really made this dish amazing. A really great find here was the linked article on how to make quick preserved lemons overnight. Preserved lemons in one day!
This recipe called for cod fish though red snapper, haddock or other fish types can be used instead, as long as the fillets are thick enough. It really was easy and, combined with the homemade chermoula cilantro mixture, green olives, canned diced tomatoes and vegetables (carrots, green bell peppers and onions), made it a very special meal.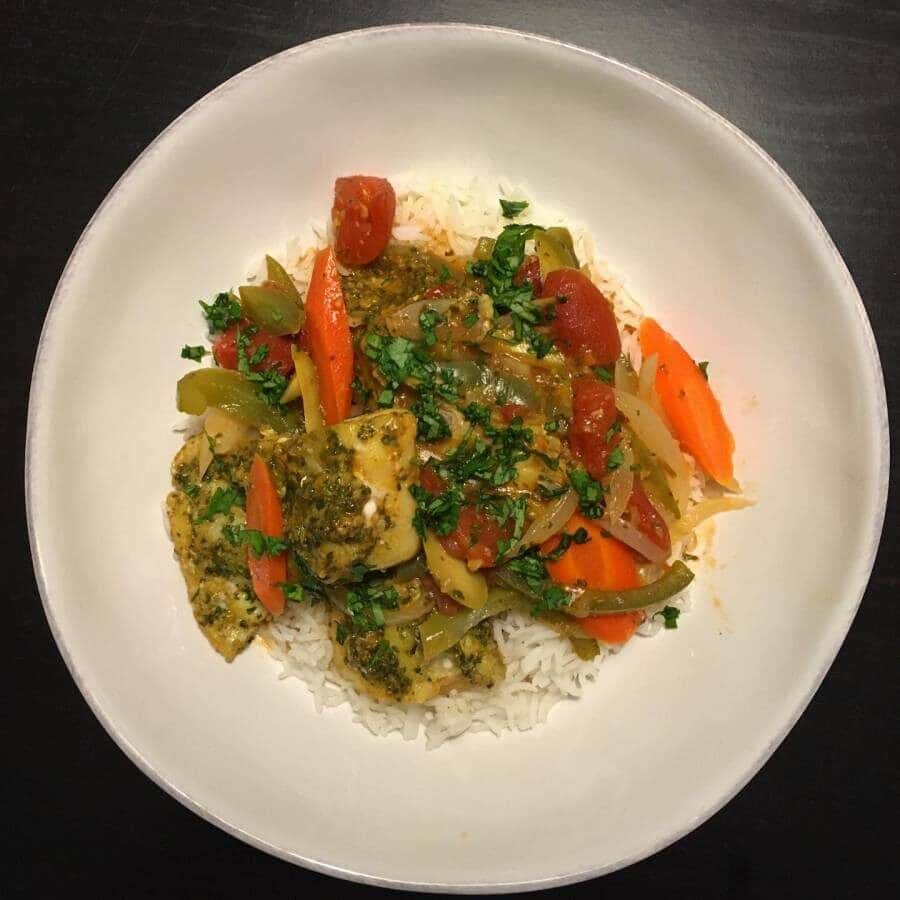 Tagine History
Tagine refers to a type of cooking-pot and the style of cooking dates back to the first century Persian empire, and is common throughout the Middle East and Africa. The cone-shaped lid of the tajine pot traps steam and returns liquid to the stew, which makes it popular in areas where potable or public water is in short supply.
Many varieties of tagine dish are popular today. A common search is for a Yotam Ottolenghi fish tagine recipe but the UK chef does not actually have a tagine dish. I prefer the America's Test Kitchen recipe I came across recently.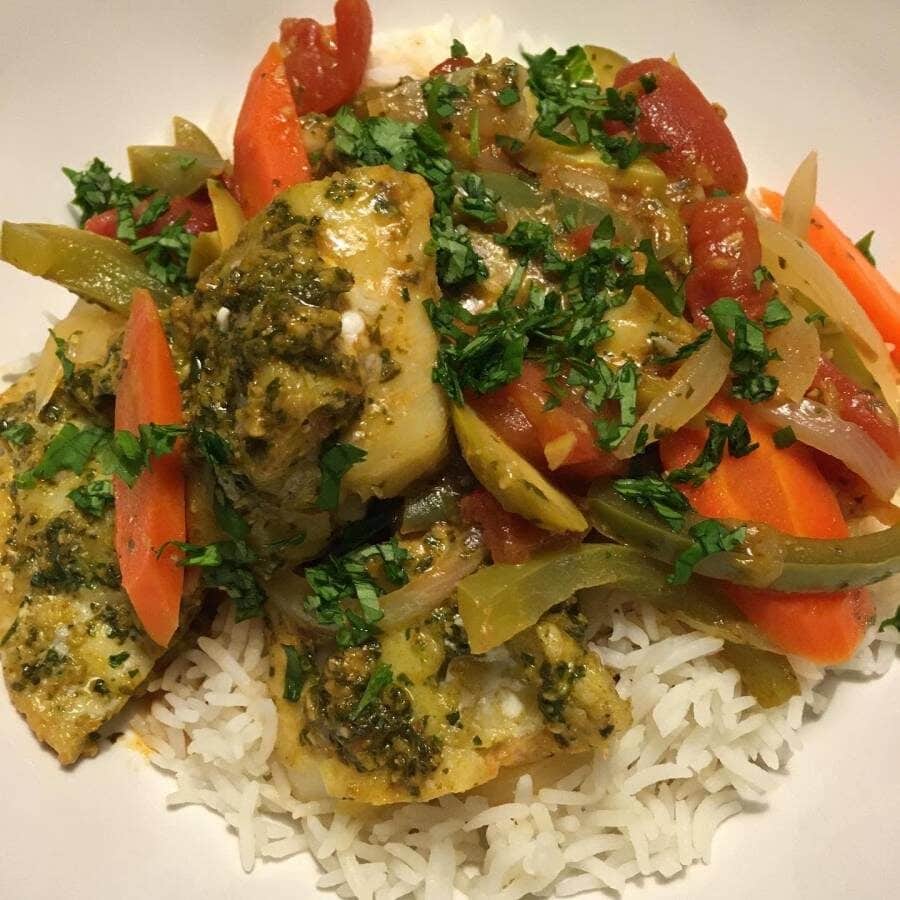 Moroccan Tagine
Moroccan tagines are typically savory and slow-cooked stews. They might feature sliced meat, poultry or fish together with vegetables or fruit (though tagines can be vegetarian also). But the highlight is the intense mix of spices including ginger, cumin, turmeric, paprika, chili and more.
Moroccan Fish Tagine Recipe
Ingredients
1 ½ pounds skinless cod fillets (1 to 1½ inches thick), cut into 1½- to 2-inch pieces
¾ teaspoon table salt, divided
½ cup fresh cilantro leaves, plus ¼ cup chopped
4 garlic cloves, peeled
1 ¼ teaspoons ground cumin
1 ¼ teaspoons paprika
¼ teaspoon cayenne pepper
1 ½ tablespoons lemon juice
6 tablespoons extra-virgin olive oil, divided
1 onion, halved and sliced through root end ¼ inch thick
1 green bell pepper, stemmed, seeded, and cut into ¼-inch strips
1 carrot, peeled and sliced on bias ¼-inch thick
1 (14.5-ounce) can diced tomatoes
⅓ cup pitted green olives, quartered lengthwise
2 tablespoons finely chopped preserved lemon
Directions
Place cod in bowl and toss with ½ teaspoon salt. Set aside.
Use a food processor to pulse the cilantro leaves, garlic, cumin, paprika, and cayenne until finely chopped then add lemon juice and pulse briefly to combine.
Transfer mixture to small bowl and stir in 2 tablespoons oil. Set aside.
Heat remaining ¼ cup oil in large Dutch oven over medium heat until warm. Add onion, bell pepper, carrot, and remaining ¼ teaspoon salt and cook, stirring frequently, until softened, 5 to 7 minutes.
Stir in tomatoes and their juice, olives, and preserved lemon. Spread mixture in even layer on bottom of pot.
Toss cod with cilantro mixture until evenly coated, then arrange cod over vegetables in single layer. Cover and cook until cod starts to turn opaque and juices released from cod are simmering vigorously, 3 to 5 minutes.
Remove pot from heat and let stand, still covered, until cod is opaque and just cooked through (cod should register 140 degrees), 3 to 5 minutes. Sprinkle with chopped cilantro and serve.
This fish tagine was really next level. The preserved lemon and chermoula lifted up the otherwise ordinary fish and vegetables and turned them into something extraordinary. I must say that the taste of Moroccan fish tagine was amazing, but was also one of the most easy and flavorful fish dishes I've ever tried.
Photos by Haemi Yoon-Hendricks