Luma is a delightful restaurant in Petaluma, California doing plant-based dining different. And I was really looking forward to this visit since it opened in December, 2022.
This is because Luma Bar & Eatery launched with a menu that is default veg. So, all dishes are vegetarian however meats can be added on, offering something for everyone.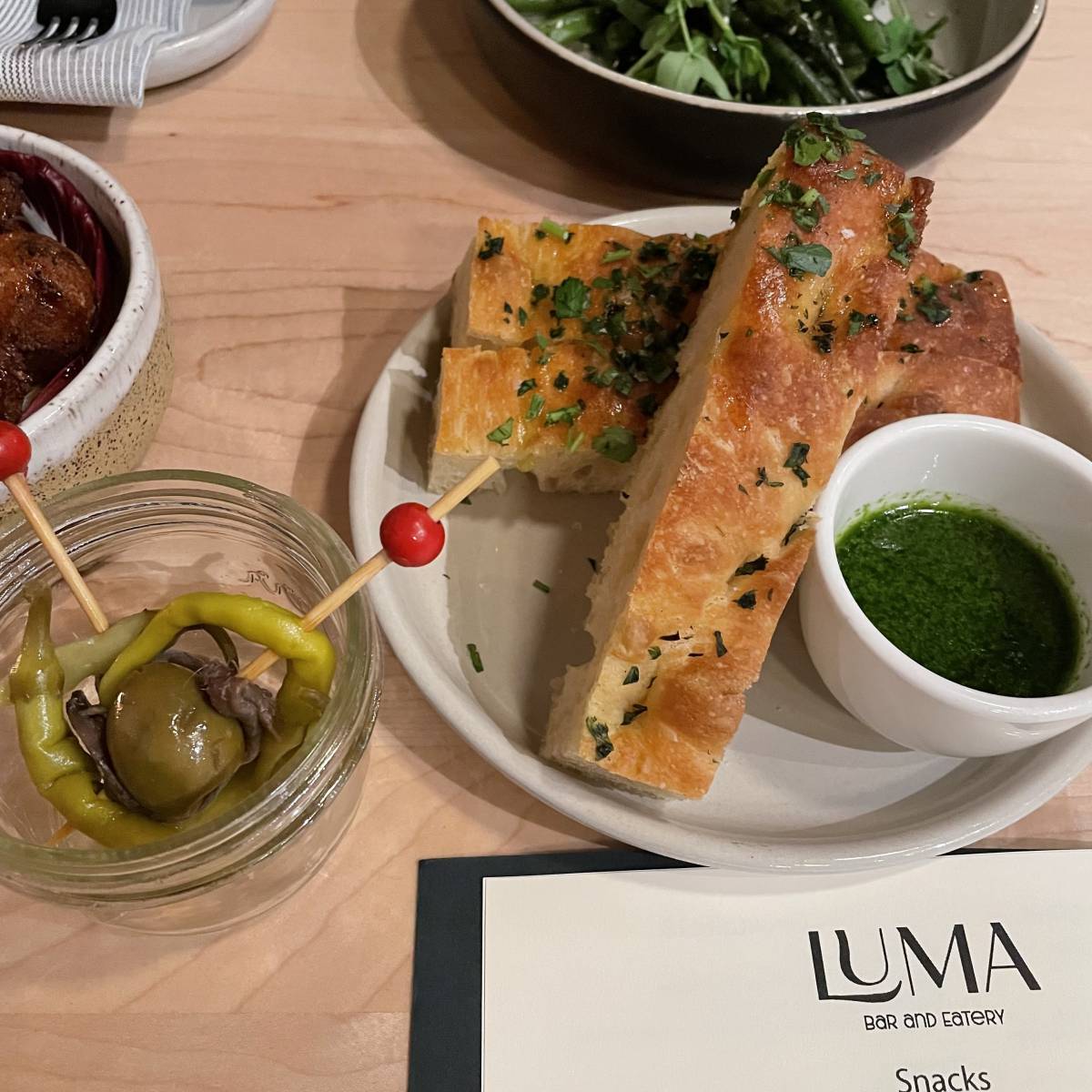 I was also excited because I used to work with Executive Chef Travis Day, and I loved what he did previously as owner of specialty butcher Thistle Meats. There he was focused on sustainably sourced quality meats, which made the Luma experience all the more interesting.
As for me, I'm definitely an omnivore and must say that both the plant-based feature dishes and delectable meats here were all excellent.
Luma in Petaluma, CA
Luma is, as they put it, a "plant-forward restaurant" but emphasizes an "inclusive menu for vegan, vegetarian, omnivore, or meat eaters." They also take the sustainability mission seriously.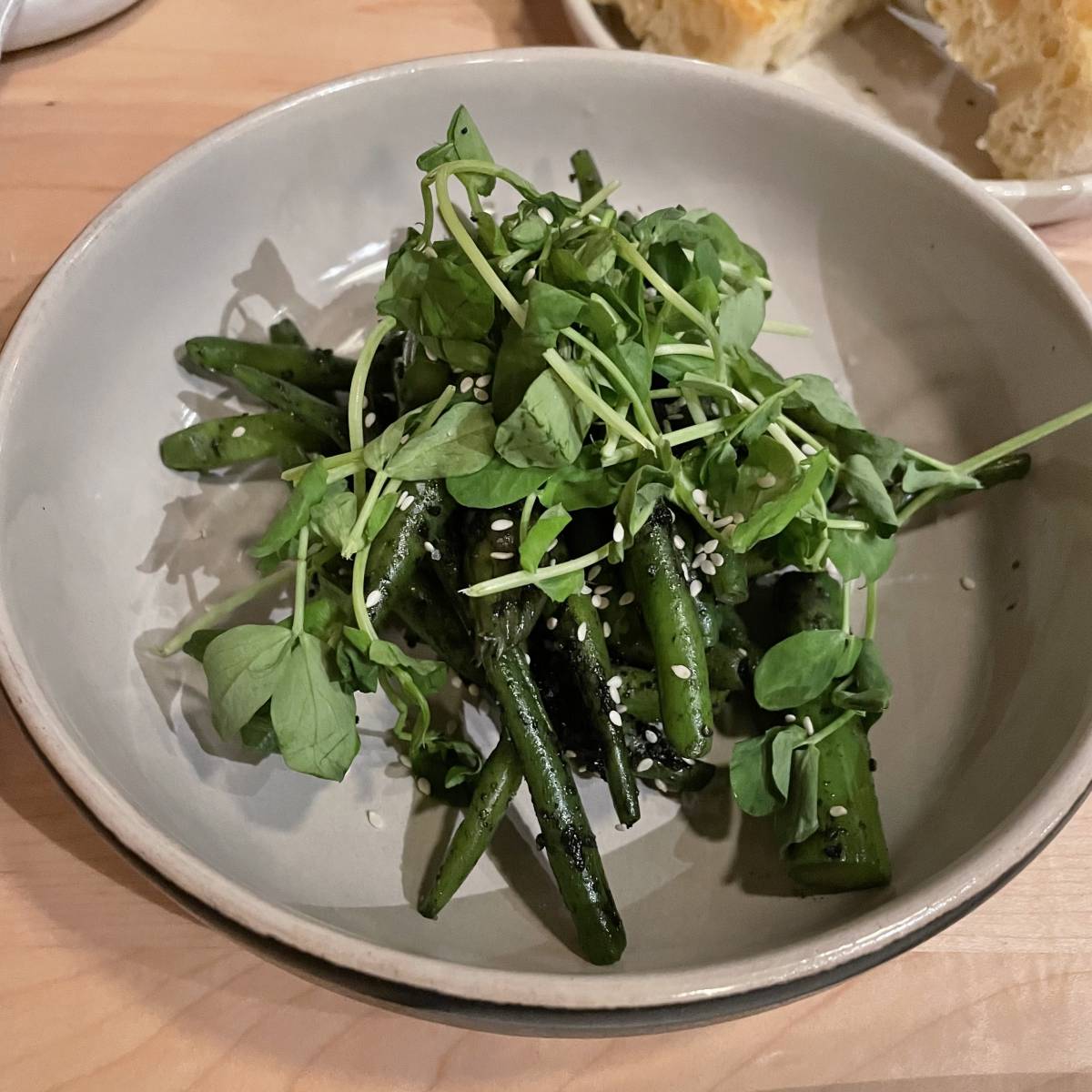 They showcase Sonoma County's abundance of local producers and family farms such as Stemple Creek, Liberty Farms and Coastal Hill. In doing so, the restaurant supports and encourages organic and sustainable farming principles.
Putting quality first, Luma really is doing something special. And we diners benefit, enjoying delicious dishes made from cleaner, fresher food (that is produced in a more sustainable way).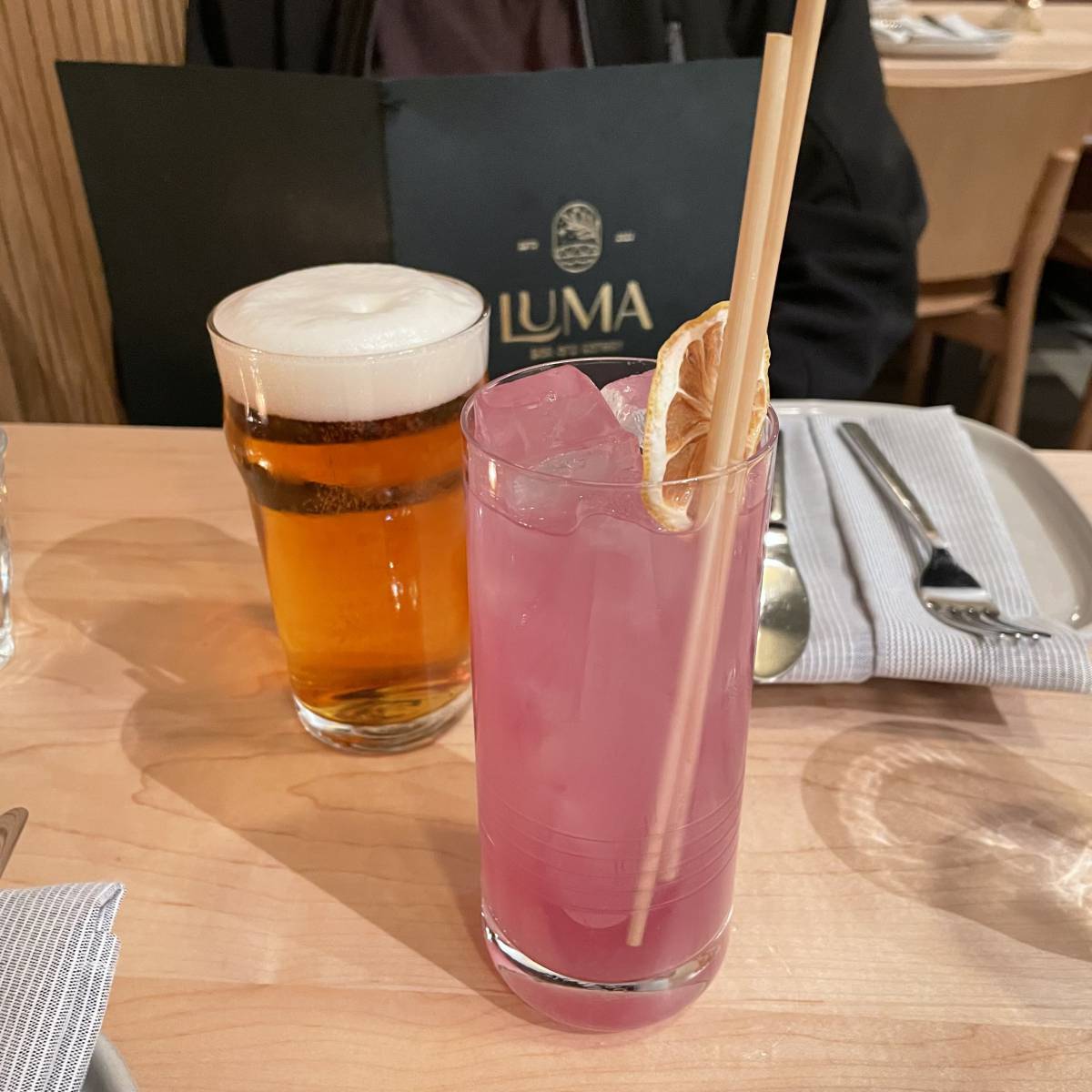 And the experience goes beyond great food. In addition to a stellar, riverfront dining experience they also have an upscale lounge vibe that goes perfectly with their amazing food.
And they offer a great Happy Hour special from 3-6 PM, that pairs a starter with a bottle of wine. The menu also has a surprising array of local craft beers, cocktails and non-alcoholic mocktails.
The mains really captured the magic of using quality, locally sourced and sustainable foods. Luma truly is doing well by doing good.
Plant-Based Plus in Petaluma
As mentioned, I worked with the chef previously but everything we had was off the regular menu and it was wonderful.
The Pickle Plate, with fermented and pickled veggies kicked things off. And all the appetizers were tasty yet hearty starters that prepared us for the dishes to come.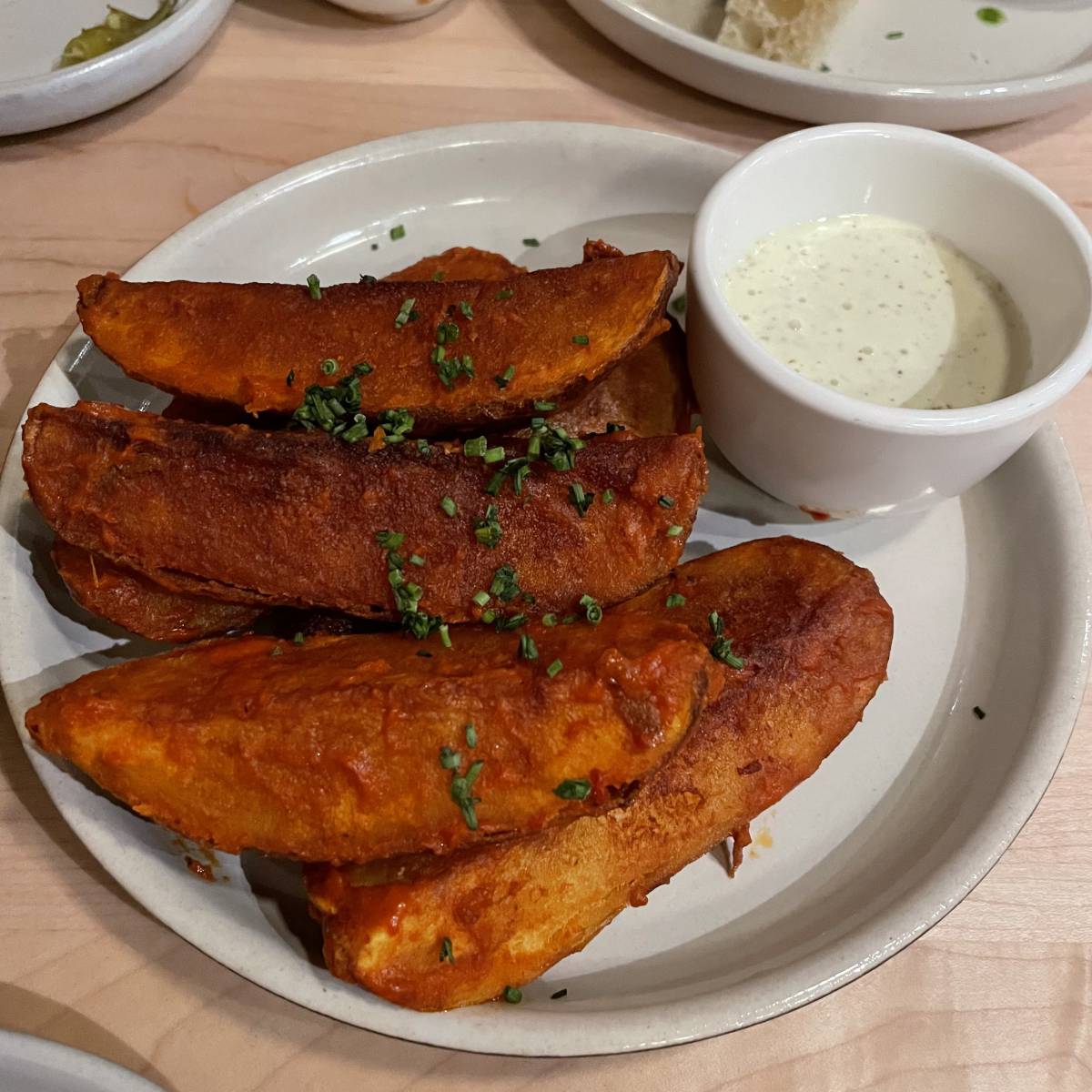 The patatas with brava sauce and hushpupppies served with remoulade sauce were both savory delights. They also went great alongside my drink, the Lumanade, which is made with super lemon, wildflower syrup (from FloraLuna Apothecary) and butterfly pea tisane (tea). Yummm!
They are really executing well on their plant forward cuisine. Even the veggie side dishes to our mains were beautifully and flavorfully cooked.
I loved the green beans and asparagus dish. It was so perfectly blanched and tossed with a hint of Japanese soy broth (I think?), the kind used for Ohitashi and black sesame dressing.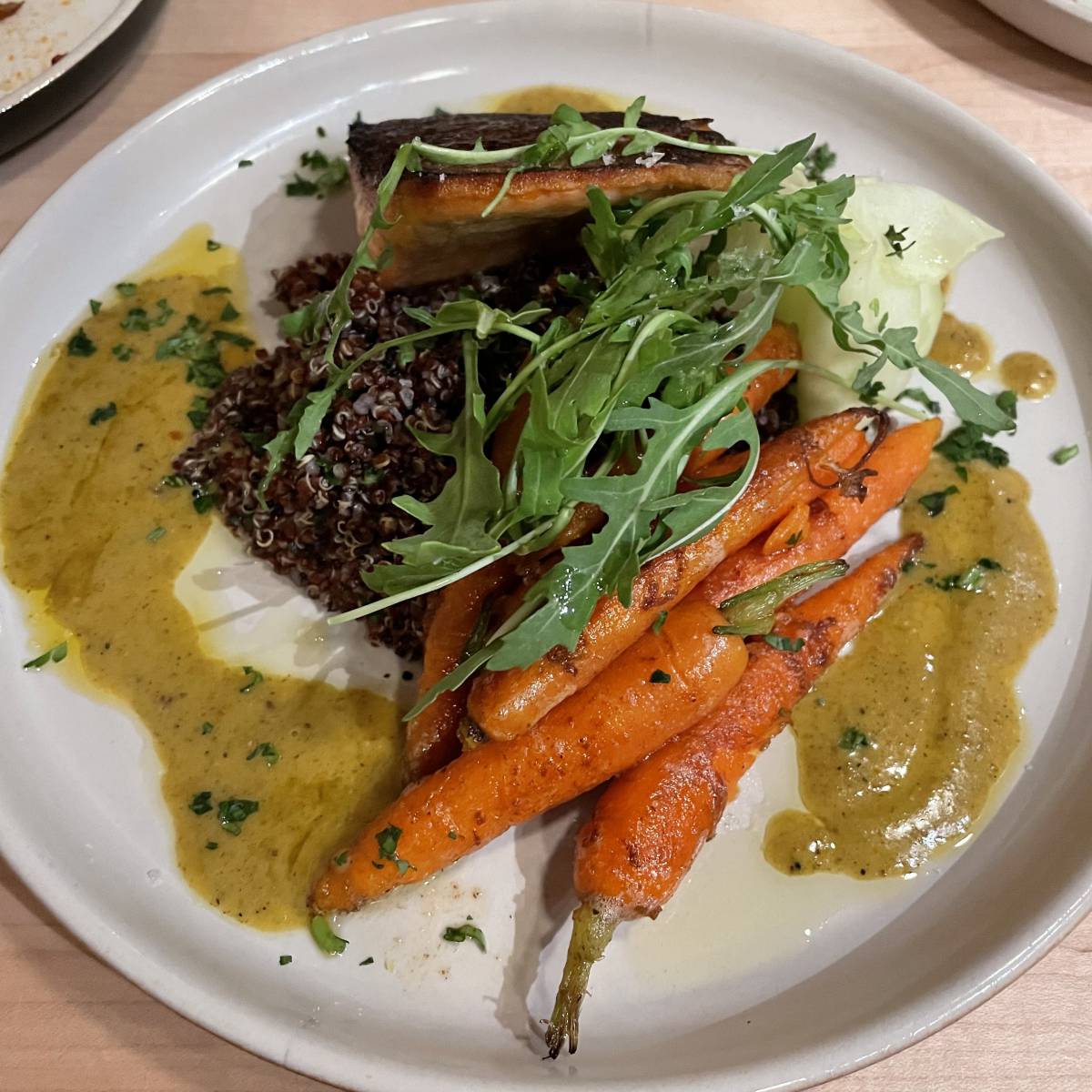 The mains really captured the magic of using quality, locally sourced and sustainable foods. Luma truly is doing well by doing good.
I had the Mcfarland Springs Trout (that was perfectly cooked) with quinoa, roasted carrots, morroccan dressing and red mustard frill.
My husband had the Stemple Creek Mixed Grill which featured fresh polenta, snap peas and pickled shallots, along with an amazing andouille sausage and brisket.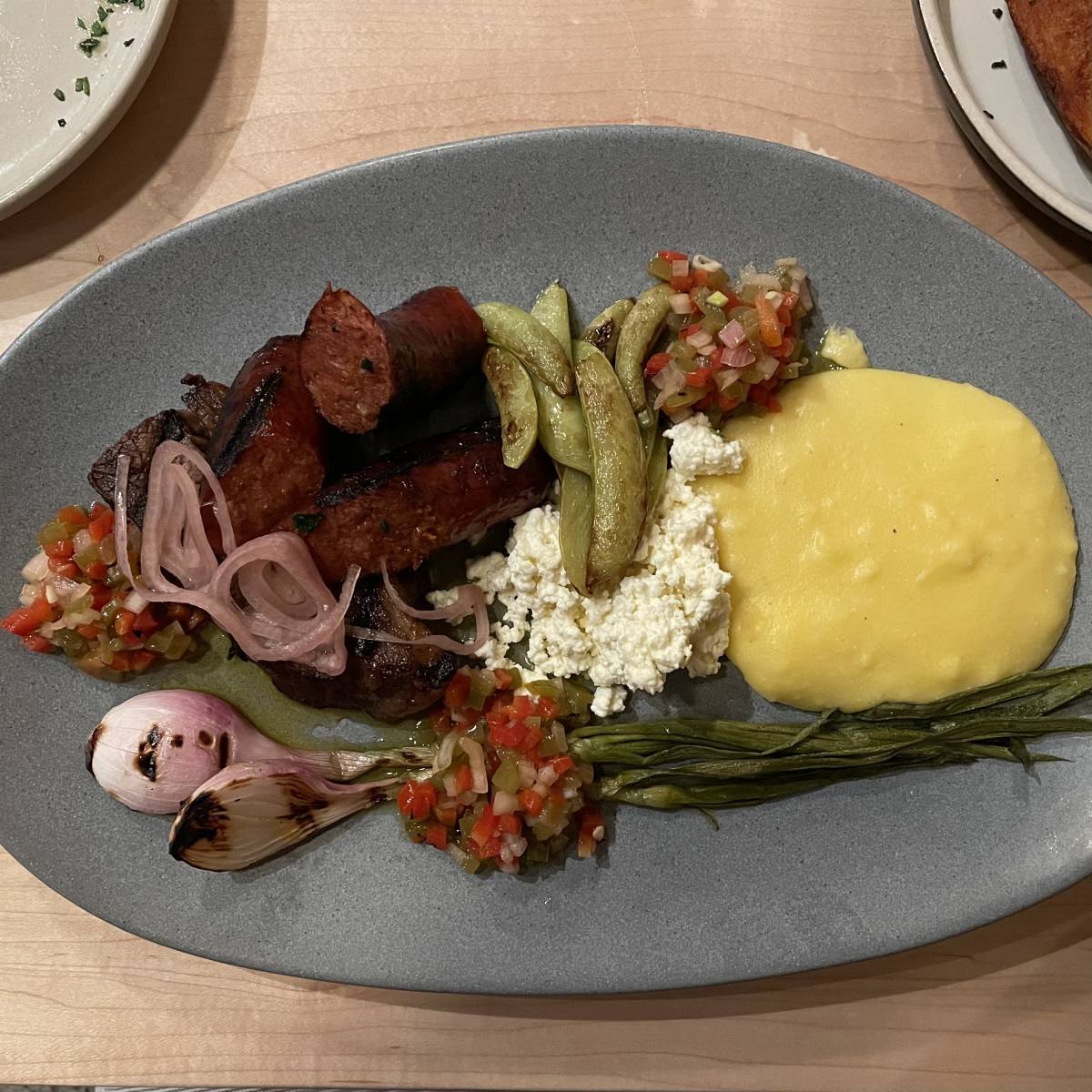 Go Local, Go Luma
Luma Bar & Eatery surpassed expectations. In addition to the delectable meal, the  service was exceptional…informative and attentive. We also spoke briefly with the owner, Jazmine Lalicker, who clearly helps make everyone feel welcome and taken care of. It was a wonderful visit.
Petaluma is less than an hour north of San Francisco so you should definitely give Luma a try next time you're in town.
Luma Bar & Eatery
50 E Washington St, Petaluma, CA 94952
(707) 772-5037
https://www.lumaeatery.com/
Type/Cuisine: Delicious Plant-Forward California cuisine
Price: $$$ (out of 5)
Atmosphere: Stylish riverside dining and drinks
Specialties: Exceptional plant-based cuisine with quality, local meats
Other:
Lunch: Thursday – Sunday 11:30 am – 3:00 pm
Dinner: Tuesday – Sunday: 5:00 pm-close