Nothing is quite like the delicious warmth and comfort of risotto. And farrotto is especially healthy and hearty. What is farrotto? It's risotto made with farro. Some spell it as farroto and others use farotto, but I think these are incorrect (of course, your stomach doesn't care!).
This farrotto recipe has mushrooms, peas and spring onions, and I've tried making a few times over the last few years. But it never really came out right…until now.
Farrotto With Mushroom, Peas and Spring Onions
Risotto, mushrooms and peas are a popular combination. Some call this farro with mushrooms and peas. And mushroom farro risotto (mushroom farrotto) definitely has its fans.
But I love the addition of spring onions to the farro risotto, mushrooms and peas. So, every spring (when I find spring onions) I have tried to make this farro risotto (farotto) recipe.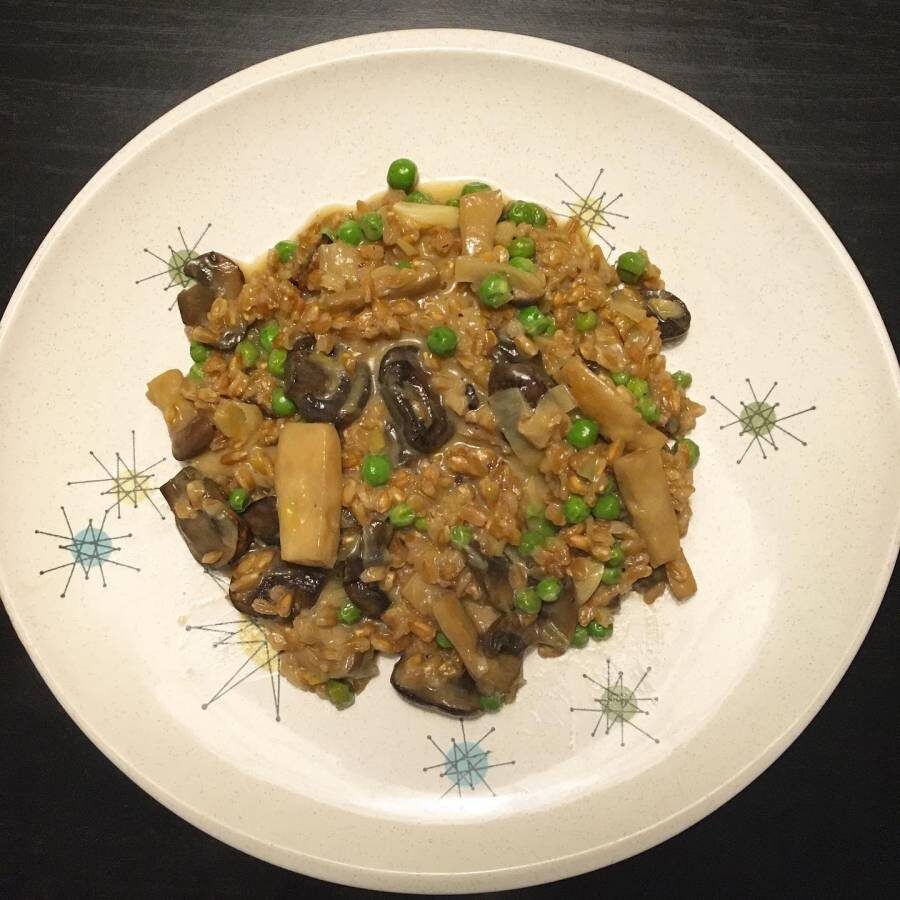 Cooking Farro Risotto
It turns out that there is an important difference between pearled farro and whole-grain farro. 🙂 Previously, when I cooked with whole-grain farro it took more than 50 minutes (double the time for cooking pearled farro) but still the bran was tough and the endosperm got mussy. Very disappointing…
This may be the fourth time I tried cooking this farrotto recipe, based on one from Giada. But with a little extra research on farro and planning I could finally make a perfect al dente farrotto!
Farrotto Recipe
Now that I have "mastered" cooking farrotto I will make it more often, since I love the chewy texture of farro.
I paired my dinner of farrotto with mushroom, peas and spring onions together with a lacinato kale and asparagus salad (see below). How will you enjoy it?
Ingredients
1/4 cup extra virgin olive oil divided
10 ounces cremini or mixed mushrooms sliced
2 sprigs of spring onions, chopped fine
2 leeks green and root trimmed, sliced lengthwise, cut into half moons and washed
2 cloves garlic smashed and peeled
1/2 teaspoon kosher salt
1 cup farro rinsed
1 cup dry white wine
3 cups low sodium chicken or vegetable broth
1/3 cup freshly grated pecorino romano cheese
1/3 cup freshly grated Parmigiano-Reggiano
4 tablespoons unsalted butter
3/4 cup frozen peas thawed
Directions
Heat a 3 1/2 qt pan over medium high heat. Add 2 tablespoons of oil and heat another 30 seconds. Add the mushrooms to the pan and cook, stirring often, for 8 to 10 minutes or until they golden brown and all of the water has cooked out. Remove the mushrooms to a plate with a slotted spoon.
Add the remaining 2 tablespoons of oil and the leeks. Reduce the heat to medium and cook the leeks, stirring often, until soft and fragrant, about 3 minutes. Add the spring onions, garlic and salt and cook an additional minute. Reduce the heat to medium and add the farro to the pan and stir to coat the grains in the oil and toast slightly. This will take another 2 to 3 minutes. Deglaze with the white wine and stir.
Cook the farro, stirring occasionally, until the white is almost completely gone. This will take about 8 minutes. Continue doing this with the broth, adding in 1 cup increments and cooking down until almost gone. Remember to stir often to help create a creamy texture. This will take about 45 minutes to complete.
When the farro is tender and almost all of the liquid has been absorbed, stir in the mushrooms, pecorino, parmesan and butter. Continue to stir until the butter is melted in and the mixture is creamy. Stir in the peas at the last minute and serve.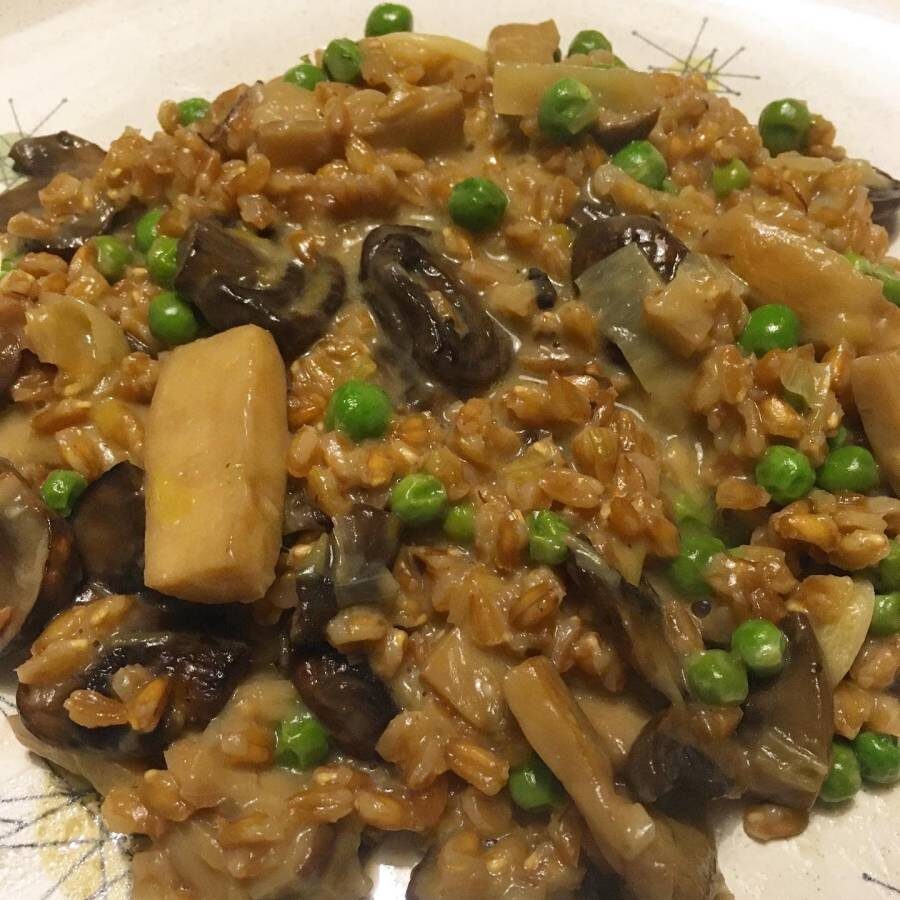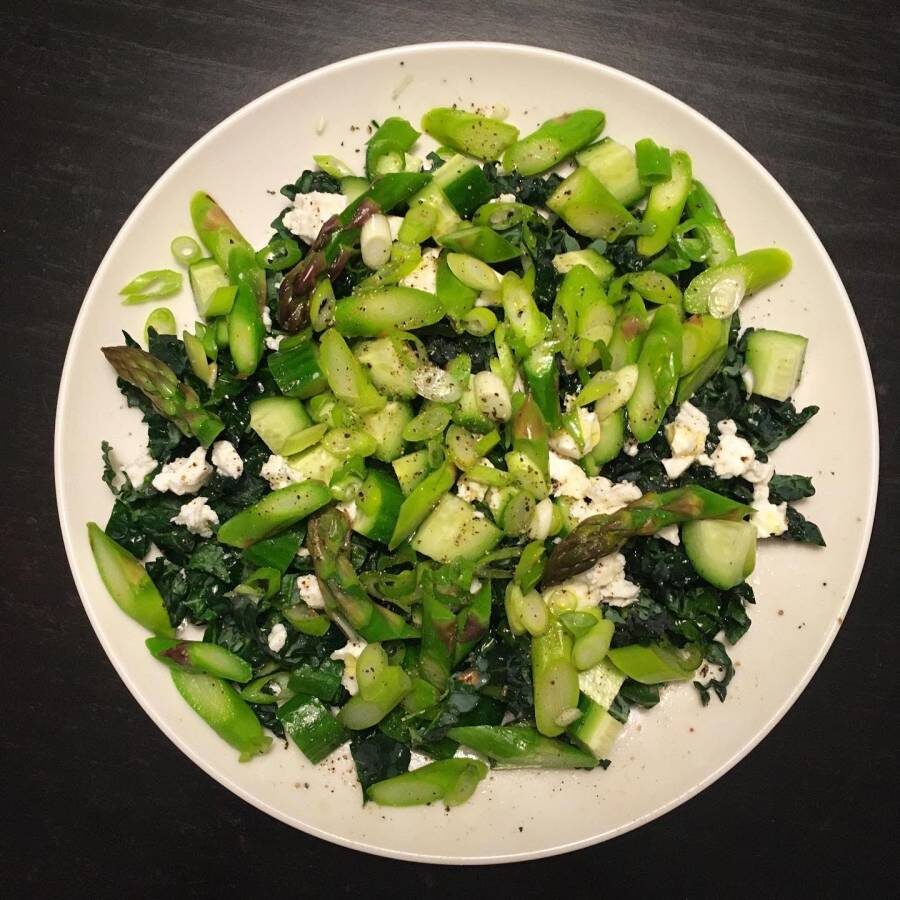 Photos by Haemi Yoon-Hendricks