If you are looking for a delicious side dish that gives your taste buds a fantasy, then this creamy polenta recipe is perfect! Polenta is cornmeal made into a sticky form and topped with any sauce of your choice.
Creamy Polenta With Mushroom Ragu
Soft polenta with mushroom ragu is rather famous because the combination simply works! You might also sometimes hear it called soft polenta with mushroom ragout. Either way, try the recipe yourself and I can bet it will be one of your favorite polenta mushroom dishes ever!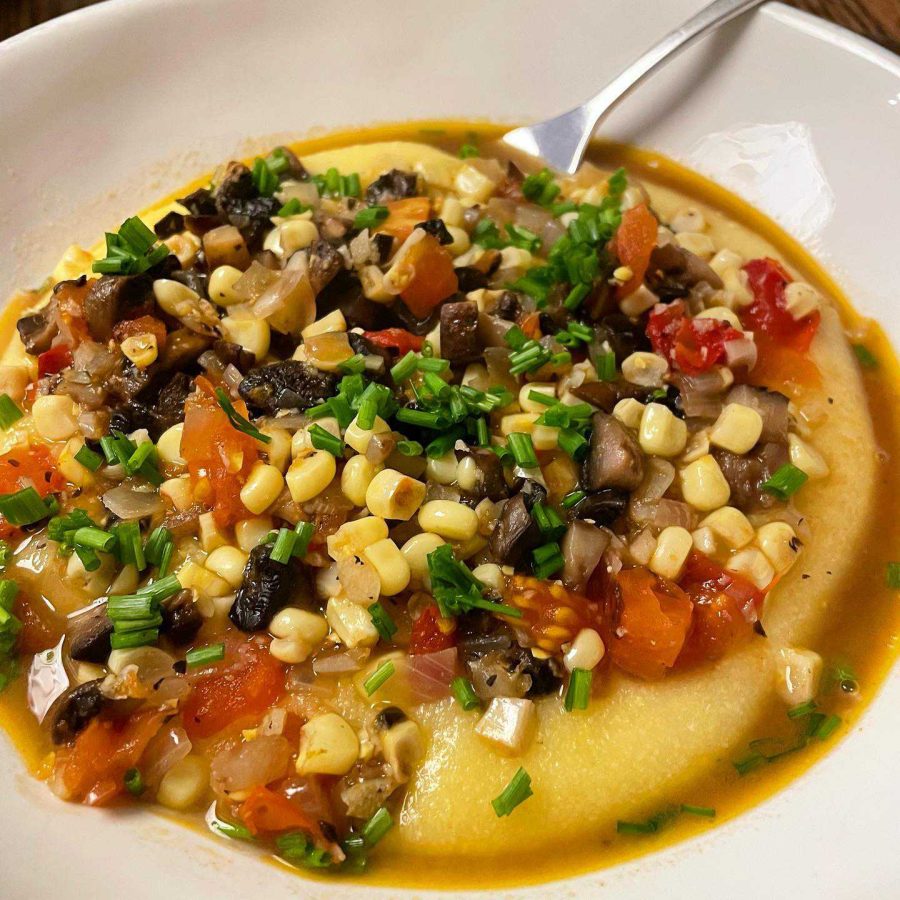 Easy Polenta With Mushrooms
Polenta is very simple and it is easy to make too. Many people do eat polenta by itself. But the extras are there to spice things up. My personal favorite are also ones that are quick and easy to make. This is why polenta with mushroom is a top choice.
Polenta Around The World
Polena is eaten around the world as a staple food. In Italian cuisine, they call it polenta, but it has different names in other cuisines. South Africans call it "Mielie Meal", in Turkey it is known as muhlama and in Spain, they call it gofio. Each country has its way of cooking the creamy polenta recipe.
Name Confusion: Ragu or Ragout?
Ragu (or ragú) is an Italian sauce that is widely used in many traditional Italian recipes. On the other hand, ragout is a French sauce that is slow-cooked. They are actually very comparable, and another similarity is that both can be served with polenta.
Try It With Any Topping Of Your Choice
It does not always have to be a polenta mushroom dish. You can have sticky beef with sesame seeds toppings or grilled chicken with spicy tomato sauce toppings etc.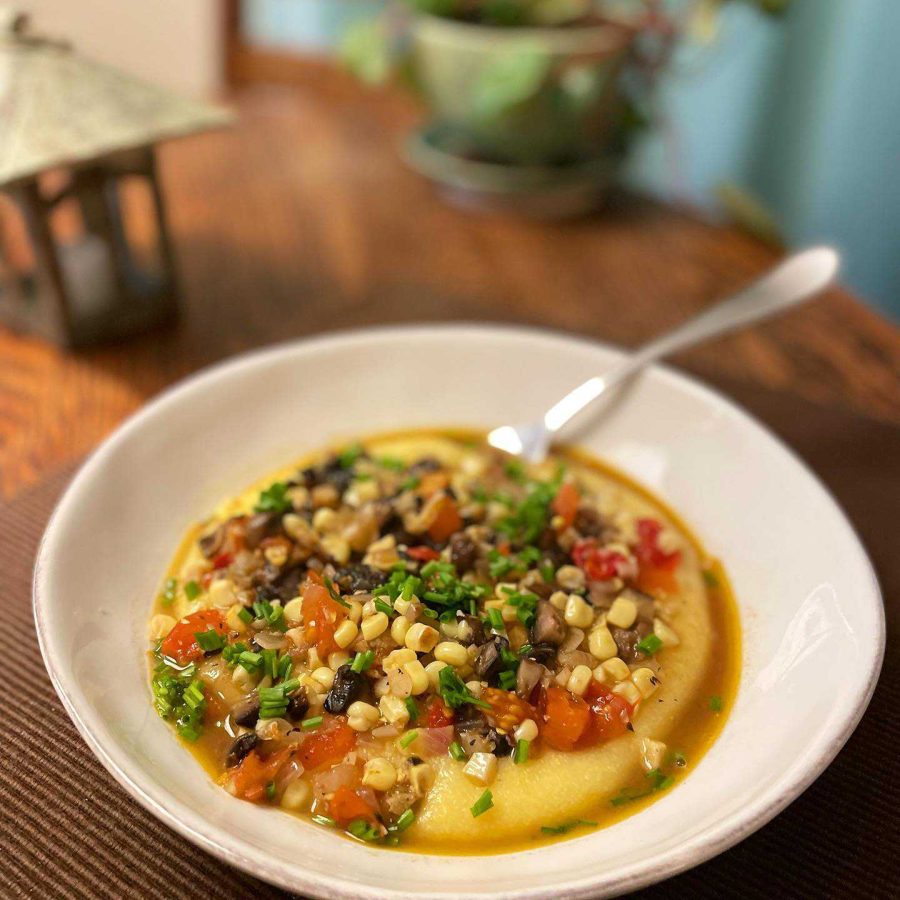 Delicious Polenta With Mushroom Ragu Recipe
I took my inspiration for this recipe from the "Essential Pepin" on PBS. It's is simple to make, heavy on your taste buds and the best part is everyone including the kids love it.
Feel free to substitute any ingredient you may not like in the recipe. I crumbled Feta cheese from the wonderful local cheese maker, Belfiore, which made it even more satisfying. Polenta is often served as a side, but if you want to do it as a main course, double up the quantity.
Prep Time: 10 minutes
Cooking Time: 1.5 hours
Serves: 2
Polenta Ingredients
½ cup yellow polenta
Salt and pepper to taste
2 cup water
Mushroom Ragu Ingredients
1 onion, chopped
1 tbsp peanut oil
1 tbsp butter, unsalted
2 cups mushrooms, sliced roughly
3 garlic cloves, minced
1 cup corn kernels
4 plum tomatoes, chopped
2 tbsp chives, chopped
½ cup chicken broth
Polenta Directions
In a pot, add 2 cups of water.
Bring it to a simmer and add salt. Gradually add the polenta and keep whisking.
Keep whisking until the polenta is perfectly mixed with the water.
Cook on medium-low heat and keep whisking for 6 to 7 minutes.
Take off the heat. Cover and keep it warm until Mushroom Ragu is finished cooking.
Mushroom Ragu Directions
In a saucepan, melt the butter. Add the peanut oil.
Add the garlic and toss for 1 minute.
Add the onion and toss until golden.
Add the mushroom and toss for 2 minutes.
Now stir in the corn, tomatoes, and chicken broth.
Bring to a boil and add seasoning.
Add the chives and take off the heat.
Add on top of the polenta. Serve warm.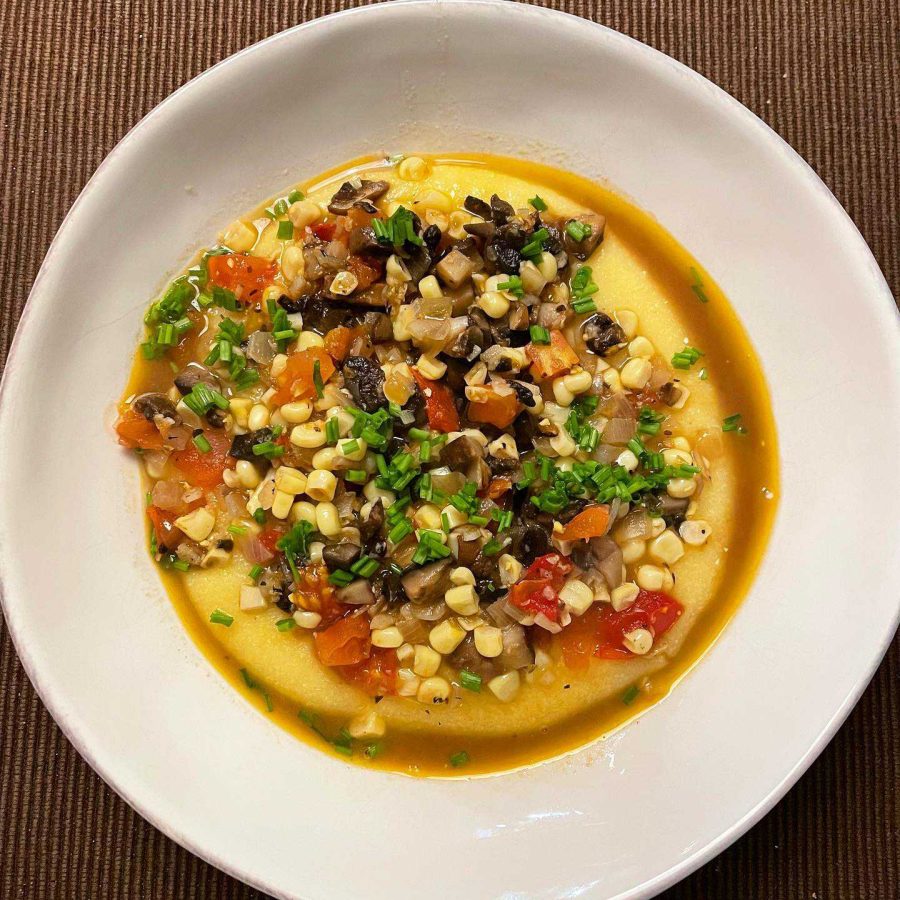 Let's Make a Tasty and Simple Polenta Mushroom Dish
As a side dish or main course, this dish is perfect. It is capable of winning both kids' and grown-ups' hearts. You can try your variation with the recipe. Regarding creativity in your kitchen, the sky's the limit!