Here is how to put a fresh, new twist on a dish based on cuisine that is hundreds or thousands of years old….
What Is Kung Pao Delight?
Kung Pao Delight or Kung Pao chicken, as it is more commonly called, is a stir-fried dish from the Sichuan Province of China that traces its origins back thousands of years. It is made with chicken and peanuts, various vegetables and, of course, chili peppers.
If you are wondering what vegetables are in Kung Pao Delight you can see how I made it below. But it can easily be adjusted to accommodate the ingredients at hand (like I usually do). If you would feel better with different ingredients or an alternate protein then give it a try. It can also be modified to meet special dietary needs.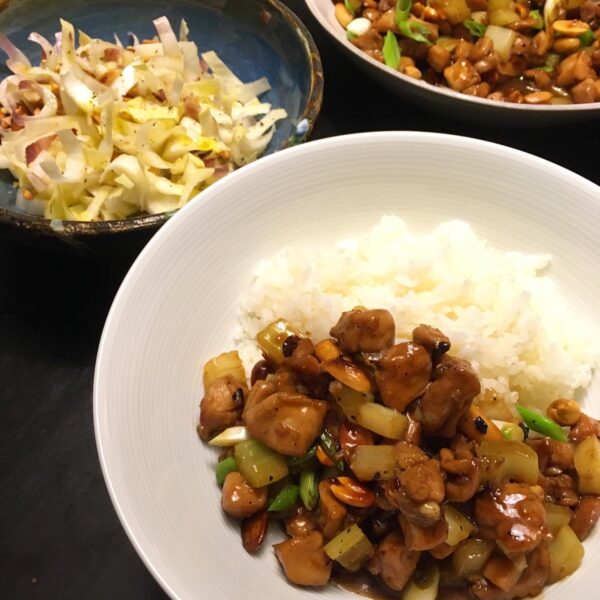 Easy, Healthy and Delicious
This authentic chicken recipe was really tasty and wonderful! I was inspired by a Kung Pao recipe I found on the America's Test Kitchen site. This savory (and spicy if you like) dish is easy to make and even easier to eat! It was also really healthy and delicious. 
This recipe allows lots of flexibility. Kung Pao chicken ingredients can vary to your taste and need. Just be sure to adjust the cooking time as needed, where appropriate. Also, you can easily halve this recipe if your slow cooker is on the smaller side. Give it a try! Here's the recipe….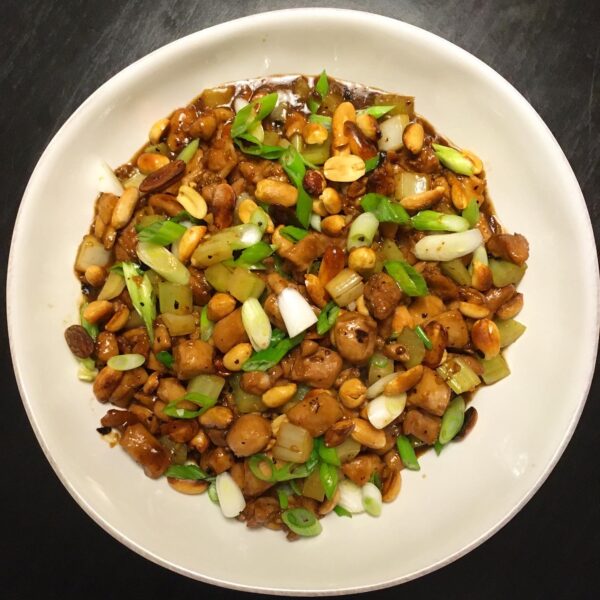 Kung Pao Delight Recipe
(Makes approximately 4 1/2 quarts)
Recipe Notes: This is a stir fry recipe so get ready to do a lot of stirring!
Chicken and Sauce Ingredients
1 ½ pounds boneless, skinless chicken thighs, trimmed and cut into ½-inch cubes
¼ cup soy sauce, divided
1 tablespoon cornstarch
1 tablespoon Chinese rice wine or dry sherry
½ teaspoon white pepper
1 tablespoon Chinese black vinegar
1 tablespoon packed dark brown sugar
2 teaspoons toasted sesame oil
Stir Fry
1 tablespoon minced garlic
2 teaspoons grated fresh ginger
2 tablespoons plus 1 teaspoon vegetable oil, divided
½ cup dry-roasted peanuts
10 – 15 dried arbol chiles, halved lengthwise and seeded
1 teaspoon Sichuan peppercorns, ground coarse
2 celery ribs, cut into ½-inch pieces
5 scallions, white and light green parts only, cut into ½-inch pieces
Directions
Chicken and Sauce: Combine chicken, 2 tablespoons soy sauce, cornstarch, rice wine, and white pepper in a medium bowl and set aside. Stir vinegar, sugar, oil, and remaining 2 tablespoons soy sauce together in a small bowl and set aside.
Stir-Fry: Stir garlic, ginger, and 1 tablespoon oil together in a second small bowl. Combine peanuts and 1 teaspoon oil in a 12-inch nonstick skillet over medium-low heat. Cook, stirring constantly, until peanuts just begin to darken, 3 to 5 minutes. Transfer peanuts to a plate and spread into an even layer to cool. Then return the (empty) skillet to medium-low heat. Add remaining 1 tablespoon oil, arbols, and peppercorns and cook, stirring constantly, until arbols begin to darken, 1 to 2 minutes. Add garlic mixture and cook, stirring constantly, until all clumps are broken up and mixture is fragrant, about 30 seconds.
Add chicken and spread it evenly. Cover skillet, increase heat to medium-high, and cook, without stirring, for 1 minute. Stir chicken and spread into an even layer. Cover and cook, without stirring, for 1 minute. Add celery and cook uncovered, stirring frequently, until chicken is cooked through, 2 to 3 minutes. Add soy sauce mixture and cook, stirring constantly, until sauce is thickened and shiny and coats chicken, 3 to 5 minutes. Stir in scallions and peanuts. Transfer to platter and serve.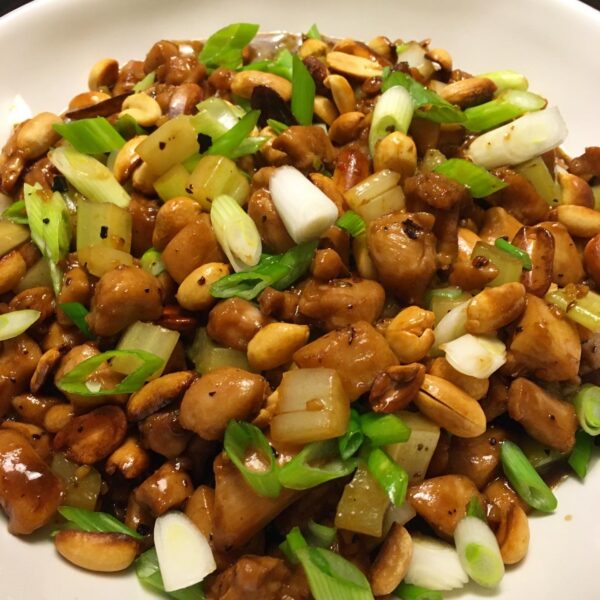 Photos by Haemi Yoon-Hendricks