A nice homemade arugula spinach pesto is the best. And penne is one of those comfort foods that anyone can make and still make their own. I love adding nuts (for that nutty flavor) in my pesto and the butter tossed tofu puts more nutritional value in this simple dish.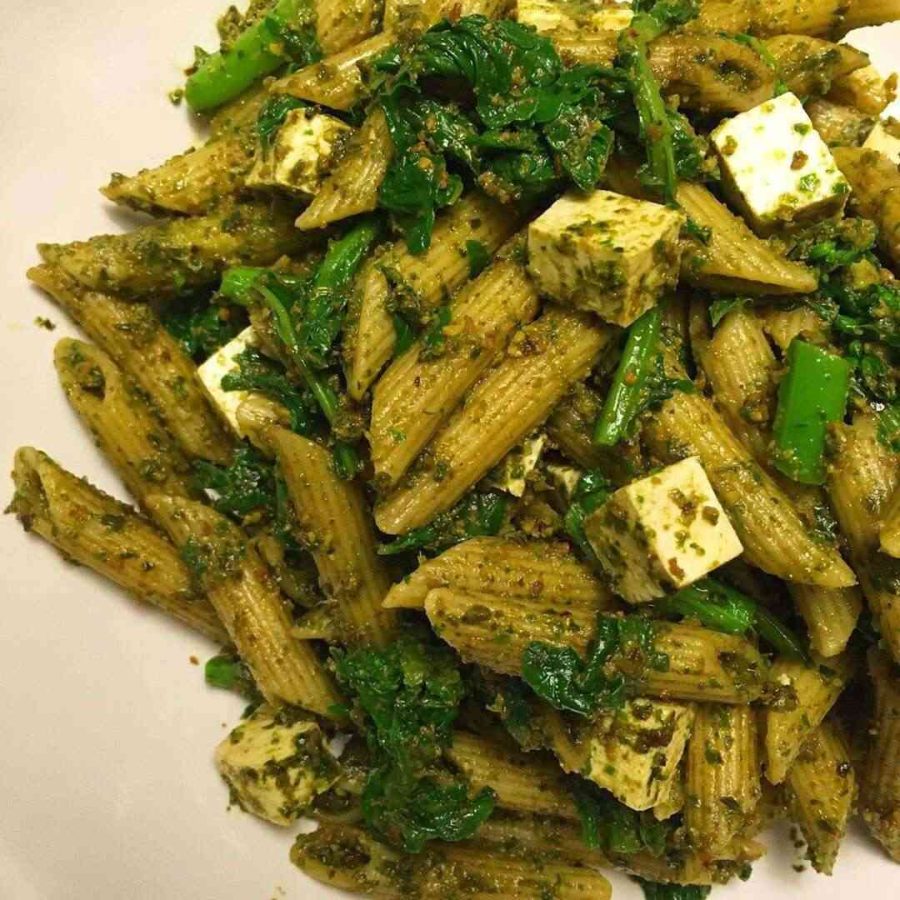 Delicious Spinach Arugula Pesto Pasta with Tofu
To be honest, making pesto is very simple and does not take a pro chef to make. You can be a newbie in the kitchen yet you can ace this recipe without any stress. Follow the recipe step by step to make an easy and amazing arugula pesto. And if tofu is not usually on the menu in your house then this is a great way to try it out.
Should I Put Nuts In My Spinach Arugula Pesto?
And let's talk nuts… The magic behind adding nuts to your pesto is that it really makes the pesto come alive. I have added walnuts here, but you can add pine nuts, cashews, or almonds. If you toast them before adding them, it is even better.
How To Make Arugula Less Bitter
I love arugula but some people find it tastes a bit bitter. There are ways you can prevent making your arugula pesto bitter. I love balancing out the flavors of each ingredient. Add a few walnuts and lemon zest to bring the flavor together in a wholesome way. But do not add too much salt.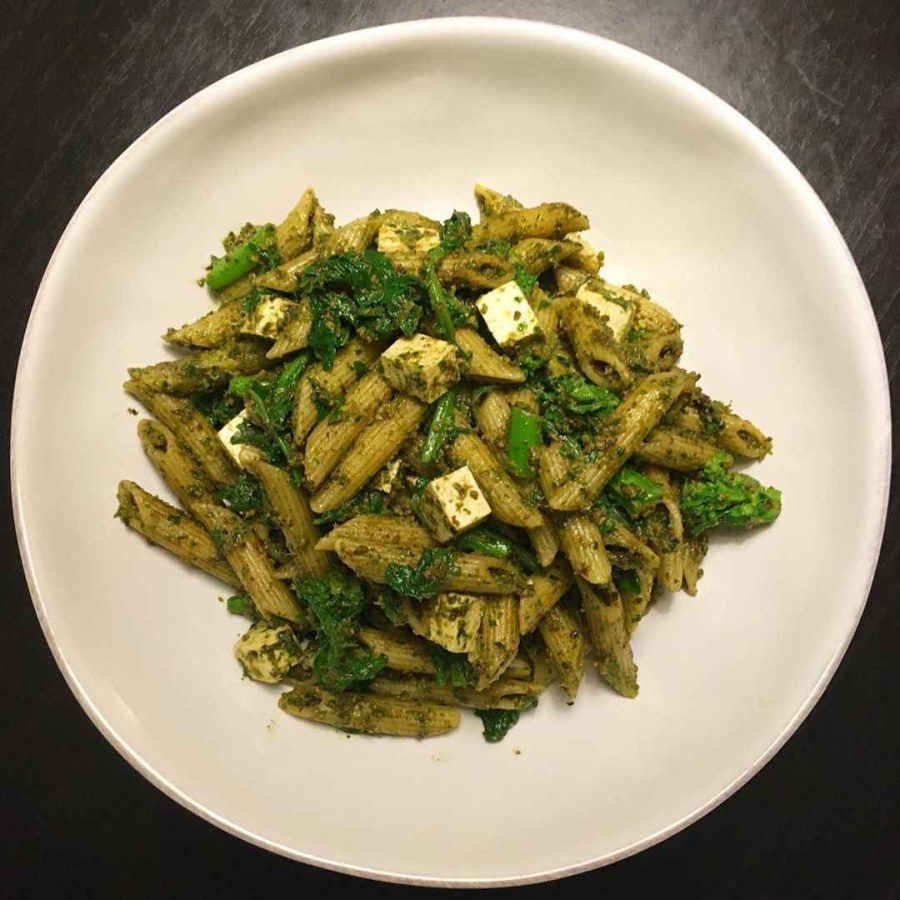 The Origin of Spinach Arugula Pesto Penne
Penne pasta is originally from the Southern part of Italy, specifically from Campania. Later it became popular in the whole Italian Peninsula. Arugula pesto originated in the Mediterranean region. It was popular with the Greeks and Romans. Combining these two brings gives us a delicious arugula pesto penne recipe.
Arugula Spinach Pesto Recipe
The base recipe doesn't include it but I love broccoli rabe and added some in the pictured dish for more healthy goodness. You can also add some pan-tossed broccoli florets in there as they take the pesto flavor nicely.
Preparation Time: 5 minutes
Cooking Time: 10 minutes
Serves: 8
Ingredients
1 ½ cup arugula
¾ cup walnuts, toasted, chopped
¾ cup basil, fresh preferred
2 garlic cloves, roughly chopped
2 tbsp lemon juice
1 tsp lemon zest
½ cup olive oil
3 tbsp Parmesan cheese, grated
Salt and pepper to taste
2 tbsp butter
1 lb penne pasta
2 cups tofu, cut into cubes
Directions
Wash the arugula properly. Add to a food processor.
Add the garlic, lemon zest, lemon juice, basil, and walnut.
Add the olive oil, salt, and pepper. Process until it is smooth.
In a pot, pour in 4 cups of water.
Add some salt to it. Bring it to a boil.
Add the penne pasta and cook for 5 or 6 minutes.
Drain the pasta, and add to a serving dish. Add the pesto. Mix well.
Pan-toss the tofu in melted butter for 5 minutes.
Top the pasta with the tofu and grated cheese.
Ready For Best Arugula Spinach Pesto Pasta?
Are you ready to up your pesto pasta game? If so, then then I hope you enjoy this recipe. The nuts add a subtle, wonderful taste to the pesto and the tofu is great. I have used penne pasta here, but if you are out of penne, you can use other pasta in this recipe.